Part of me wishes I had written this blog post a week ago, after Governor Whitmer's announcement that school would not resume for the 2019-2020 school year.
Truth be told, I was hoping/waiting to hear from Admin/Superintendent Maleyko/Michigan Department of Education about what the next steps were for remote learning… but alas, we are still waiting to hear.
There are nine weeks remaining in the school year. We have already gone through three weeks of remote learning. Mathematically speaking, that's a quarter of the way through our state-mandated school-time together.
I have not changed my mind about whether or not the work should count. My official statement is as follows: I encourage each student who is able (emotionally, mentally, physically, technologically, etc.) to do so, to complete the enrichment exercises.
And I hold that position, while at the same time, strongly agreeing with the sentiments expressed in this post:
As I shared with a parent last week, I am aware that many students are unable to complete the enrichment activities for a variety of reasons – and I am compassionate and understanding of that.
I don't know about you, but I have really been struggling these past four weeks. R.O. Kwan's New York Times op-ed entitled "Trouble Focusing? Not Sleeping? You May Be Grieving" helps explain why. The whole opinion piece is full of insight into exactly what many of us are going through.
So – in no particular order – here is an (incomplete) list of school-related things I am grieving:
Saying goodbye to seniors.

Superintendent Honors' Night
Prom
Graduation
Senior Parties

Seeing all my students

Former (11th & 12th graders)
Current (10th graders)
Students who were not my actual students
Past (graduated)

Blackout Poetry after To Kill a Mockingbird
Sharing Favorite Literature

Night by Elie Wiesel
Hamlet by William Shakespeare
The Ultimate Gift by Jim Stovall

Poetry Projects

Adaptation of The Red Wheelbarrow by William Carlos Williams
Adaptation of This is Just to Say by William Carlos Williams
Adaptation of Where I'm From by George Ella Lyon

End-of-Year Reflection
ASAP: Film Studies
Supporting students at their events

Mama Mia musical
Softball/Baseball Games
Track
Tennis

The Last Day of School
With all that being said, time keeps moving forward. As sad as I am about grieving the things we will all miss due to this pandemic, there are just two things which truly matter
who you are as a person
and
how you engage the world
My advice for all of us going through this pandemic is to view life through the lens of what truly matters. If you are proud of your comportment in both those areas, then, despite everything, you are on the right track.
(HUGS)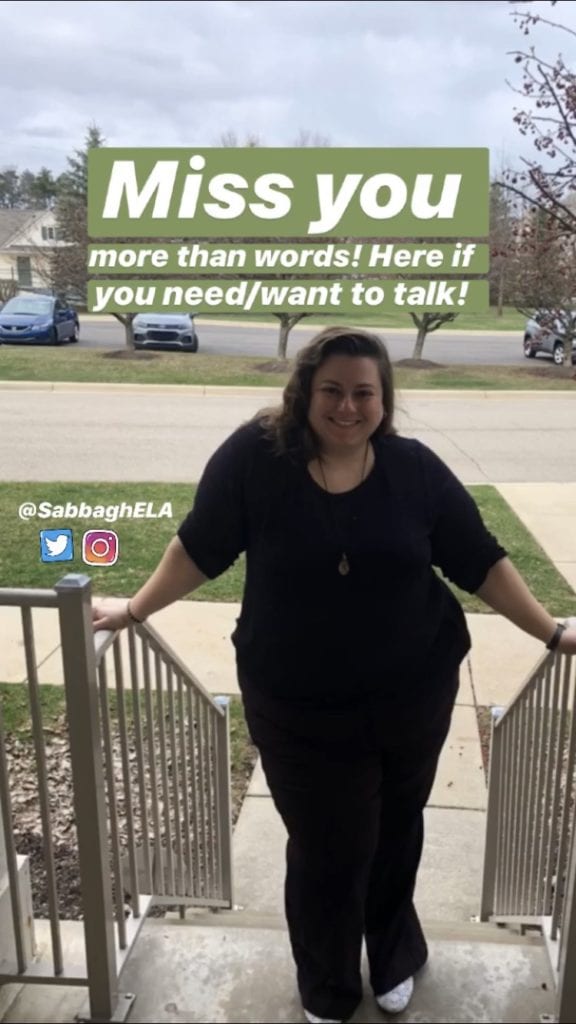 Thanks for reading.
Mx. Sabbagh