I miss you guys a ton! 😍😍😍I want to see and chat with you on google meet. Parents please login your child's email. We will meet on Thursday at 2:00. I will send you a link to click 15 min before  and join the meeting on google meet. Parents will need to have access to either a phone or computer. Wear your favorite hat!! Can't wait to see you! Ms. Mohamed
Instructions to login: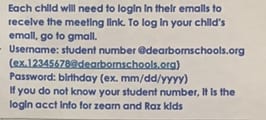 I sent you an email. Please check it and have parents respond to it. Thanks!