New: Inherit Midnight by Kate Kae Myers
The Competition
Seventeen-year-old Avery VanDemere's ridiculously wealthy grandmother has decided to leave the family fortune to the relative who proves him or herself worthiest–by solving puzzles and riddles on a whirlwind race around the globe.
The Contenders
For Avery, the contest offers a chance to escape. As the black sheep of the VanDemere clan–the illegitimate daughter, sent away to boarding school–she'd love to use that prize money to run away from the family who ostracized her . . . and discover the truth about her long-lost mother.
Marshall might be Avery's uncle by blood, but there's no love lost between them. He'll do anything to win, even if it means turning on his own children.
Riley is the charming son of Grandmother VanDemere's lawyer. As the game progresses, Avery finds herself drawn to him–even though she isn't quite sure she can trust him.
The Winner?
Treacherous turns in the competition serve as brutal reminders that only one person can win it all. Is Avery willing to risk both her heart and her life to claim the grand prize?
Deep and Dark and Dangerous by Mary Downing Hahn
Just before summer begins, 13-year-old Ali finds an odd photograph in the attic. She knows the two children in it are her mother, Claire, and her aunt Dulcie. But who's the third person, the one who's been torn out of the picture?
Ali figures she'll find out while she's vacationing in Maine with Dulcie and her four-year-old daughter, Emma, in the house where Ali's mother's family used to spend summers. All hopes for relaxation are quashed shortly after their arrival, though, when the girls meet Sissy, a kid who's mean and spiteful and a bad influence on Emma.
Strangest of all, Sissy keeps talking about a girl named Teresa who drowned under mysterious circumstances back when Claire and Dulcie were kids, and whose body was never found. At first Ali thinks Sissy's just trying to scare her with a ghost story, but soon she discovers the real reason why Sissy is so angry. . . . Mary Downing Hahn is at her chilling best in this new supernatural tale that's certain to send shivers down her readers' spines.
Madly by Amy Alward
When the Princess of Nova accidentally poisons herself with a love potion meant for her crush, she falls crown-over-heels in love with her own reflection. Oops. A nationwide hunt is called to find the cure, with competitors travelling the world for the rarest ingredients, deep in magical forests and frozen tundras, facing death at every turn.

Enter Samantha Kemi – an ordinary girl with an extraordinary talent. Sam's family were once the most respected alchemists in the kingdom, but they've fallen on hard times, and winning the hunt would save their reputation. But can Sam really compete with the dazzling powers of the ZoroAster megapharma company? Just how close is Sam willing to get to Zain Aster, her dashing former classmate and enemy, in the meantime?

And just to add to the pressure, this quest is ALL OVER social media. And the world news.

No big deal, then.
Strange New World by Rachel Vincent
Dahlia 16's life is a lie. The city of Lakeview isn't a utopia that raises individuals for the greater good; it is a clone farm that mass-produces servants for the elite. And because Dahlia breaks the rules, her sisters–the 4,999 girls who share her face–are destroyed. She and Trigger 17, the soldier who risked his life for hers, go on the run, escaping into the wild outside the city walls. But it turns out Dahlia has one remaining identical, one who shouldn't even exist.
Waverly Whitmore is teenage royalty, a media sensation with millions of fans who broadcasts her every move–including every detail of her wedding planning, leading up to the day she marries Hennessy Chapman. Waverly lives a perfect life built on the labors of clones like Dahlia. She has no idea that she too is a clone . . . until she comes face to face with Dahlia.
One deadly secret. Two genetic sisters. And a world that isn't big enough for both of them.
See How They Run by Ally Carter
SOME SECRETS
ARE BETTER LEFT
UNFOUND.
For the past three years, Grace Blakely has been desperate to find out the truth about her mother's murder. She thought it would bring her peace. She thought it would lead her to answers. She thought she could put the past to rest.
But the truth has only made her a target.
And the past?
The only way to put the past to rest is for Grace to kill it once and for all.
On Embassy Row, power can make you a victor or a victim, love can turn you into a fool or a fugitive, and family can lead you forward or bury you deep. Trust is a luxury. Death is a very real threat. And a girl like Grace must be very careful about which secrets she brings to light.

Indigo by Alice Hoffman
Three friends in search of a place to belong find that home is truly where the heart is in this new tale of enchantment from best-selling master storyteller Alice Hoffman.
13 year-old Martha Glimmer is convinced this is the worst time of her life. Her mother died, she grew 7 inches, and she has to put up with a woman who plys Martha's lonely father with food and opinions about how 13 year-old girls should behave. Martha longs to leave Oak Grove and travel. Martha's best friend Trevor and his brother Eli also want to leave Oak Grove. Nicknamed Trout and Eel because of the thin webbing between their fingers and toes, they long to see the ocean. Together, Martha, Trout, and Eel are going to find the true meaning of home — in very unexpected places.
Brave New Girl by Rachel Vincent
We have brown hair. Brown eyes. Fair skin. We are healthy and strong and smart. But only one of us has ever had a secret.
Dahlia 16 sees her face in every crowd. She's nothing special—just one of five thousand girls created from a single genome to work for the greater good of the city.
Meeting Trigger 17 changes everything. He thinks she's interesting. Beautiful. Unique. Which means he must be flawed. When Dahlia can't stop thinking about him—when she can't resist looking for him, even though that means breaking the rules—she realizes she's flawed, too. But if she's flawed, then so are all her identicals. And any genome found to be flawed will be recalled.
Destroyed.
Getting caught with Trigger would seal not only Dahlia's fate, but that of all five thousand girls who share her face. But what if Trigger is right? What if Dahlia is different?
Suddenly the girl who always follows the rules is breaking them, one by one by one…
All Fall Down by Ally Carter
Grace Blakely is absolutely certain of three things:
1. She is not crazy.
2. Her mother was murdered.
3. Someday she is going to find the killer and make him pay.
As certain as Grace is about these facts, nobody else believes her–so there's no one she can completely trust. Not her grandfather, a powerful ambassador. Not her new friends, who all live on Embassy Row. Not Alexei, the Russian boy next door who is keeping an eye on Grace for reasons she neither likes nor understands.
Everybody wants Grace to put on a pretty dress and a pretty smile, blocking out all her unpretty thoughts. But they can't control Grace–no more than Grace can control what she knows or what she needs to do.
Her past has come back to hunt her . . . and if she doesn't stop it, Grace isn't the only one who will get hurt. Because on Embassy Row, the countries of the world all stand like dominoes, and one wrong move can make them all fall down.
Tunnel of Bones by Victoria Schwab
Trouble is haunting Cassidy Blake . . . even more than usual.
She (plus her ghost best friend, Jacob, of course) are in Paris, where Cass's parents are filming their TV show about the world's most haunted cities. Sure, it's fun eating croissants and seeing the Eiffel Tower, but there's true ghostly danger lurking beneath Paris, in the creepy underground Catacombs.
When Cass accidentally awakens a frighteningly strong spirit, she must rely on her still-growing skills as a ghosthunter — and turn to friends both old and new to help her unravel a mystery. But time is running out, and the spirit is only growing stronger.
And if Cass fails, the force she's unleashed could haunt the city forever.
Tuck Everlasting by Natalie Babbitt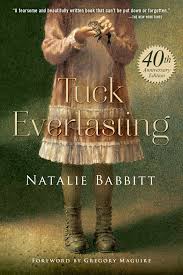 Doomed to – or blessed with – eternal life after drinking from a magic spring, the Tuck family wanders about trying to live as inconspicuously and comfortably as they can. When ten-year-old Winnie Foster stumbles on their secret, the Tucks take her home and explain why living forever at one age is less a blessing that it might seem. Complications arise when Winnie is followed by a stranger who wants to market the spring water for a fortune.
The Silver Bowl by Diane Stanley
"Unwanted at home, Molly goes to work for the king of Westria as a humble scullery maid. She arrives at the castle with no education, no manners, and a very disturbing secret: She sees visions, and those visions always come true.
One day, while she's working in the king's great hall, young Prince Alaric passes by. Molly finds him unbearably handsome—but also unbearably rude. But what does it really matter? She'll probably never see him again.
In time Molly is promoted to polishing silver and is given a priceless royal treasure to work on: the king's great ceremonial hand basin. But there's something odd about it. The silver warms to her touch, a voice commands her to watch and listen, and then the visions appear. They tell the story of a dreaded curse that has stalked the royal family for years. There have already been deaths; soon there will be more.
As tragedy after tragedy strikes the royal family, Molly can't help but wonder: Will the beautiful Alaric be next? Together with her friends Tobias and Winifred, Molly must protect the prince and destroy the curse. Could a less likely champion be found to save the kingdom of Westria?"