Congratulations to the following students of the month:
Rahaf (September), Diaa and Souad (October).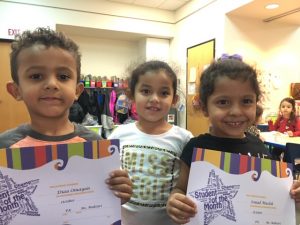 House of Respect
William Ford Elementary has five houses, one school! Within each house, there is a mix of grade levels. The houses are: Fearless (red), Achievers (Green), Respect (Blue), Believers (Yellow), and Givers (Orange). We are building a sense of community in our large school. Students get to eat lunch with other grade levels every Wednesday, and are participating with students from other grade levels.  Our classroom is part of the House of Respect. Wear blue every Wednesday!!!
Below are pictures from the first assembly we had where everyone found out what house they were in, as well as our first lunch in the cafeteria.