Kidcadia Field Trip
We are all set for our field trip. We will be walking to Kidcadia after our lunch. We will have bellies, so please do not send any extra money for food. We plan to leave at about 11:40.
Please have your first grader wear socks and gym shoes. If your child would like to bring a disposable, plastic water bottle, that is fine. (Just in case it is left behind or lost, then it is not a big deal.) I will write your child's name on it with a marker.
It is my first time going to Kidcadia. The first graders have told me quite a bit about it.
Monday, May 22 – Pizza Monday 1$ per slice and our field trip to Kidcadia.
Wednesday, May 24 – I will be out for a doctor's appointment in the morning. Ms. MacDonald will be my guest teacher. I will be back in the afternoon.
Thursday, May 25 – PARENT APPRECIATION LUNCHEON AT 2:15 pm *** Please pick up your tickets from the office.*** Parents…we love you!
Friday, May 26 – No School
Monday, May 29 – Memorial Day – No School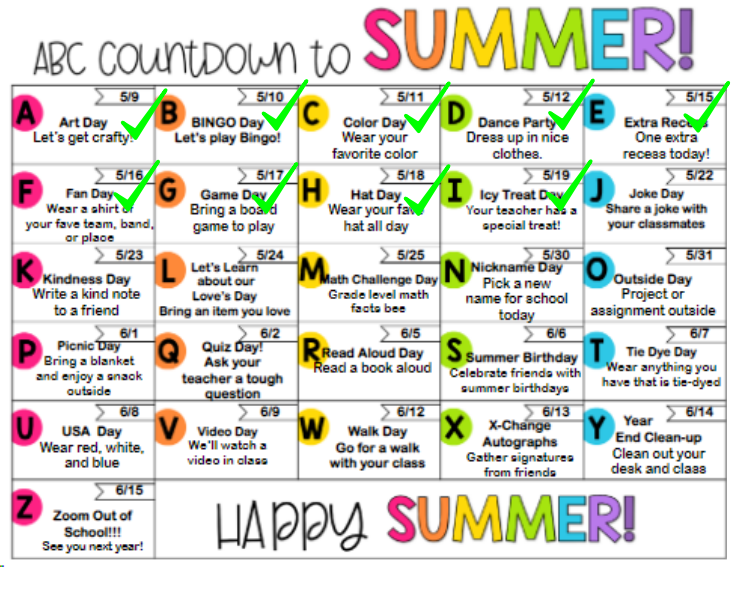 Monday – J = Joke Day – Students will have an opportunity to share a joke.
Tuesday – K = Kindness Day – Students will have an opportunity to write a kind note to a friend.
Wednesday – L = Learn about what we LOVE Day – Bring something you love.
Thursday – M = Math Challenge Day – We will play around the world fast math fact challenge.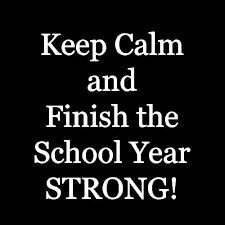 The school year is quickly coming to a close. It is crucial that your child is here so that I can finish up the NWEA, the Developmental Reading Assessments, etc. I cannot accept any late work to add grades or change grades on the final report card once they are due. Missing assessments are unexcused and entered as a zero. Please try your best to have your first grader make it for the last few weeks.

ELA
We are finishing up our last Benchmark Unit. We will spread it out over the next few weeks.
Reading
Developmental Reading Assessments are underway. I have 1/4 of the class finished. I will be working on these for the next 2 weeks.
Writing
The writing assessment for the end of the year is complete. We had strict instructions to administer it this past week. We will be comparing the first narrative assessment with this last narrative assessment for your child's growth goal.
That doesn't mean we are finished writing. We are still required to learn to write a "How to…" paper.
Spelling
Last spelling test. After this week, we will review spelling words and have a mini spelling bee in the classroom. This last list might be the trickiest of them all. FYI…it has been a class rule since the middle of April to bring the spelling homework book back to school on a Friday or it is a clip-down. It is also a rule to actually do the spelling homework or it is a clip-down. That is part of being responsible. All of the children know this.
penny
puppy
windy
lucky
hockey
turkey
chimney
valley
any
blue
eight
answer
Math
We are trying our best to finish module 4. We are adding and subtracting double-digit numbers.
Science
We are finishing up our sound and light unit. Once that is finished, we will explore with Mystery Science.
Thank you for your support.
Mrs. Korte