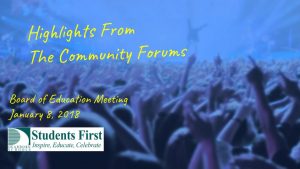 At the January 9, 2018 Board of Education Meeting the Board heard a presentation summarizing the feedback gathered at the 10 Community Forum meetings held in October and November 2017. Click on the image to review the presentation.
Comments and questions were collected at the Community Forums and compiled into three documents. Click on Comments and questions above to review the documents.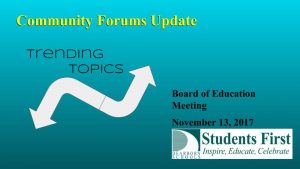 An update on the Community Forums was provided to the Board of Education at the November Board Meeting. At the time the update was given, five Community Forums had been held. An overview of the trending topics at those five meetings are covered in the presentation including information on a new high school, a 9th grade academy, and approximate costs of possible additions at the high schools.
No decision has been made by the Board of Education regarding high school boundary changes.
Community Forum Update 11 13 17 Brd Mtg
Community Forum Update 11 13 17 Brd Mtg Ar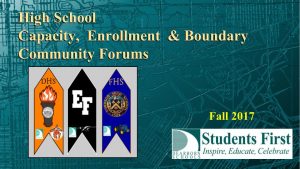 Click on the link  to view a PDF version of the presentation being shared at the
Community Forums – High School Boundary Presentation
You can also  watch the presentation on You Tube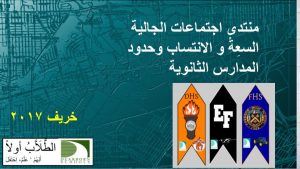 Click on the link to view the Arabic version of the presentation being shared at the Community Forums- High School Boundary Presentation- Arabic
Watch the Arabic version on You Tube