Parent Notes
Dear Parent(s),
Every year, billions of dollars in federal funding go to hospitals, fire departments, schools, roads, and other resources based on census data.
For a better future of our city, schools, and students , please click on the link now and fill out the census. It only takes a few minutes from your time to make a difference.
Complete the Census application here: 
Sincerely,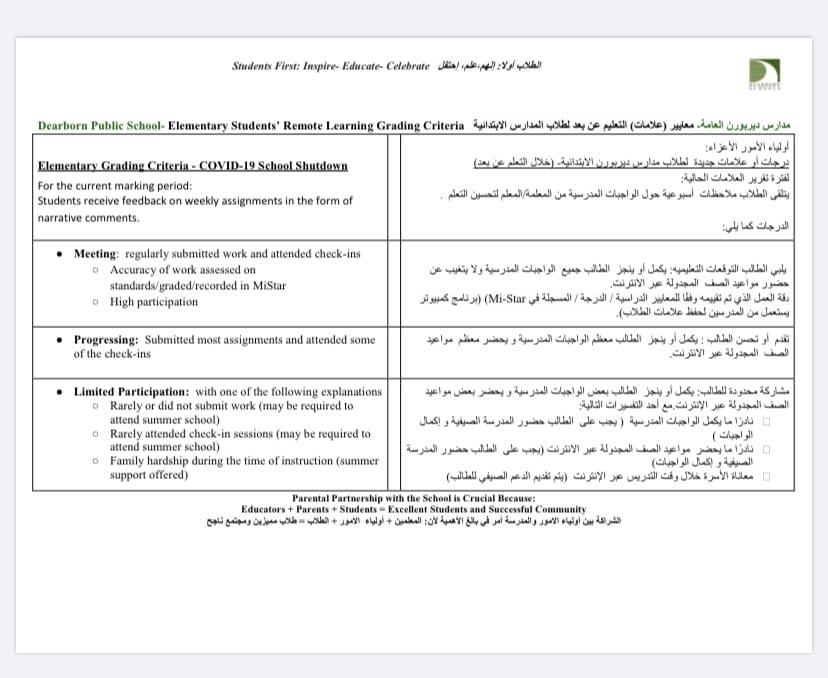 I thought this was a good resource to share with some of our families. There's

a new

program that will

pay up to $500 in utility costs for Michigan's essential workers. THAW, or The Heat and Warm Fund, will pay up to $500 in utility assistance for any household with an income up to 250% of the Federal Poverty Level. Following the Department of Homeland Security's definition of an essential worker, if you're a health care nurse, hospital cleaning and maintenance worker, grocery and foodservice clerk, or bus driver, you qualify.
Hello parents,
if your child still need materials (supplies, notebooks, chromebook etc.) please let me know. We will be at the building on Wednesday at 1:00. Send me a message today . This will be the last time.
Also , remind your child that they are responsible for all school materials (chromebooks, books, reading bags, and books ,etc) and we will be expecting them back when we are permitted to officially re-enter the building.
Thank you

Mrs. Harb's Remote Learning 
Google Classroom: 
your child must go on google classroom daily. I will be assigning work with due dates. Your child can click Diana Harb third grade. Then, go to classwork. After, look for assignments that are due soon. Click on the assignment and follow directions given. Some assignments you can answer the questions by replying and typing. Some assignments you need to write in your red journal or reading response journal and take a picture and send it to me on class dojo. 
Readworks:
I created a new class for readworks. Your child can throw out the old class code in their planner. The new class code is: SATVSK and password is: 1234
I assign some articles that come with questions. There are due dates on assignments. I will be checking daily and grade them. 
Study Island/Exact Path:
These websites are offered through the district. Your child knows how to go on them. They will go on these sites through clever. I assign material on study island. Please make sure your child spends at least 20 minutes on these sites. 
Classwork: 
I sent a daily list of work your child needs to complete. Please follow the daily routine. Your child is responsible to complete class work. You can send me weekly pictures and make sure your child dates all the work. I will collect everything and grade them. 



Please click on the link below to print out the form to check out a computer for your child.

Due to the virus there will be no school until April 13th. Please make sure your child completes all work given!
Mrs. Harb's 3rd Grade Daily Work
Reading-  Everyday your child is expected to go on to www.readworks.org/students and the  login/password is in your child's planner.  Your child is required to complete at least 2 articles a day.
Books– your child can continue to read daily from their reading bag or other books from home. Your child has questions to use for each book.
Close Reading-  I sent home 5 scholastic news article. Your child is required to complete one a week. Using their close reading strategies. They need to read the article and annotate. Also, answer the questions. They can write a CER (Claim, Evidence, and Reasoning) in their journal.
Spelling-  I sent home spelling weeks 24-27. For the next 4 weeks your child is required to practice one list a week. Using their spelling notebook they need to write them 3 times each, write sentences, and a spelling story.
Grammar- your child has their grammar packet. Every day they need to complete one lesson of grammar.
Math- your child has the new module 7. Each day your child is expected to complete one lesson a day. In addition, your child needs to study and practice the multiplication facts. Your child can use their notebook to practice their facts. Also, they must complete their sprits math book.
M-STEP-  your child has their blue folder filled with packets. They need to work on them daily.
***If you have any questions/concerns message me on class dojo or email. I will respond to you! harbd@dearbornschools.org
Welcome Back Letter
August 26, 2019
Dear Families,
Welcome to third grade! My name is Mrs. Harb and I will be your child's third grade teacher. I hope you had a fabulous and restful summer with your family, I know I did. We are going to learn many things and have a lot of fun. It is my mission to instill a love for learning in my students. Third grade is an exciting time as your child embarks upon new adventures in learning. This is a year of important transitions, as well as new skills are accelerated.  It is essential to maintain your child's self-esteem and build a secure foundation for future growth and success.
I teach with a passion so that my students will develop a desire to become life-long learners. I have been teaching in Dearborn for  16 years. I am very excited to teach your child and look forward to meeting each and every one of you. In order to make your child's school year a successful one I will need your support and cooperation. Please feel free to email me at harbd@dearbornschools.org  , class dojo ,or schedule an appointment before or after school to express any concerns. It is very important to have open communication together. I am very excited to be a part of your child's educational success and look forward to a great year together!
Mrs. Harb
Mrs. Harb's Class Syllabus 
August 26, 2019
Dear Parents,
Welcome to third grade! I am happy to have your child in my class this year at Becker. I promise to ensure that your child will have an amazing and positive learning experience. Let the adventures begin! Please read the following information below to help further your understanding of my classroom expectations.
Newsletter: I will send home a weekly newsletter on class dojo. Please zoom in to read. It will consist important information. Please read the newsletter and save important dates/events. Also, it will consist what we will be learning about in every subject.
Communication: Please contact me through class dojo, email, notes, student planner, or phone. I will respond within 24 hours.
Email: harbd@dearbornschools.org
Phone: 313-827-6950
Attendance: Please send your child to school on time. School bell rings at 8:35 and ends at 3:45. Please let the office staff know when your child is not attending school and the reason why. It is your child's responsibility to make up any missed work.
Take Home Folder: Your child will be taking home a purple take home folder every day. Please look through the folder daily for important notes, newsletters, homework, and school work.
Student Planner: Your child will be coming home daily with their student planner. You are required to look at it and sign below. If you don't sign your child will lose points. It is essential for you to review that day what is accepted to be completed. Many times there are important reminders in the planner. Feel free to write comments or notes. We check planners every morning.
Homework: Your child will receive homework daily. Please make sure your child understands the homework. If your child does not complete the homework he/she will clip down and will have to complete it at home.
Blue Reading Bags/Homework: I will be sending home a red reading bag that will include leveled books and a reading response journal. Please listen to your child read and ask your child questions after he/she finished reading. There will be questions in the journal you can use to help your child. Your child is responsible to read all the books every day or any assigned books and chapters. If your child forgets to read, he/she will clip down  and other consequences. For example, no recess, no fun activities, etc.
Class Dojo: I will be using this app to communicate with you; we can share instant messages, updates and photos, and videos from class. It's the easiest way for you to keep in touch with me and see how your child is doing at school. I will send you a form to fill out. The instructions are easy to download the app for free. Many of you already have it connected.
Behavior Chart: I use a behavior clip down chart to help monitor student behavior especially with a substitute. At the end of the day, your child will record what color they are on and you're responsible to sign the chart daily.  If your child clips down to red, he/she will be sent to the office and phone calls will be made to parents. I will send a think sheet home when needed. There are rewards and incentives. Also, we have stone for the whole class to earn parties. Please continue to speak with your child about school rules and how to behave. There are no exceptions to any misbehavior.
Snack Time: Your child will have two snack/brain breaks in the morning and afternoon. Please send healthy snacks only! The following snacks are not allowed in my classroom: candy, cookies, donuts, cakes, chips, pop or juice, etc. Please send any of the following snacks: fruits, vegetables, crackers, Cheez-its, Goldfish, Cheese and crackers, yogurt, pretzels, veggie straws, etc.
Lunch: Please go over the lunch menu with your child before school begins. Please make sure your child's name is on their lunch bag. When you send money for school lunch, make sure it's in an envelope with your child's name and teacher. Third grade lunch starts 11:15 .
Water Bottle: Students are only allowed to bring a water bottle with a spill proof lid. Please write your child's name on it.
Birthdays: If you plan on celebrating your child's birthday, please let me know a couple days in advance. Please do not send cupcakes or cakes because they are messy. You may send sugar cookies, snacks, juice, treat bags, etc.
Volunteers: I am looking forward for volunteers to help during field trips, parties, and school events. I will let you know when help is needed. I will need two homeroom parents that can assist during events, field trips, and so on. Please let me know if you are interested. You must fill a iChat form first.
Translation: Please let me know if you need translation.
Thank you for your understanding and support. If you have any concerns or questions, please contact me. Class dojo and email is the best communication, but phone calls and notes are fine.
Respectfully,
Mrs. Harb
3rd grade teacher