I should stress that you DO NOT want to re-create a website every year.  IBlog is designed for you to continue using the same site year after year.  Just login and continue using your existing site and pick up where you left off.  There is a simple way to delete last year's posts if you'd like.
In some cases you might want to delete a website that you created.  To do so, start by logging into iBlog.
Go to the Dashboard of the site you wish to delete.
Find and click on Tools > Delete Site in the menu on the left side of the screen near the bottom.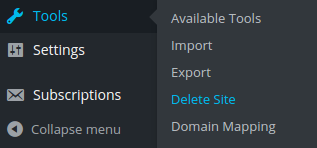 On the Delete Site page click the checkbox to confirm and then the button to delete the site.

An email will be sent to you that requires you to click a link as the final step to ensure you really want to delete the website.
You must click the link in the email to complete the process.