Hello welcome to the 5th grade class page!
Let's see what our fifth graders are doing in Mrs. VanWallaghen's Class.
In addition, to each student's IEP goals…
This month, during reading, the students are working on:
During Reading we are working on:

Recognizing our sight words.
sounding out and blending 3 letter words (CVC) words.
recognizing the initial sounds in words.
Retelling a story using beginning, middle, and end.
comparing stories with similar themes.
Identifying the author's point of view in informational texts.

During Writing we are working on:

Capitalizing the first letter of a sentence and using ending punctuation.
Recognizing CVC and blends word patterns to improve our spelling.
Writing in complete sentences.
Completing a research project, a connection from our reading informational unit, complete using google slides, include research, photos, and present.

During Math we are working on:

Measuring lines  and objects using whole and 1/2 inches.
Weighing objects on a scale using grams.
Calculating the areas of rectangular shapes on grid paper.
Adding measurements together.
Working on their opinion article: Is playing video games a real sport? They said no 🙂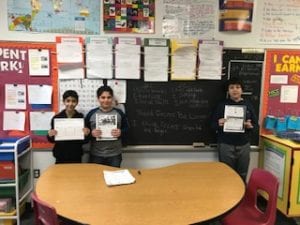 Classroom Halloween Party: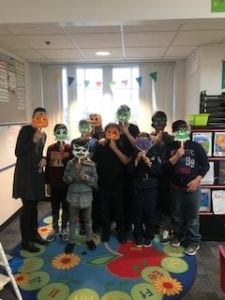 Doing their shadow experiment for science class.