What a beautiful summer day today! A perfect day to go to the beach, and take your favorite book along of course. If you can't go to the beach, enjoy a book about the beach and being by the water.
How to Code A Sandcastle, by Josh Funk, tells the story of a girl who wants to build a sand castle, with the help of a robot friend. She soon learns that a robot will only do exactly what you tell it to do, just like when we code in computers. The computer doesn't actually know anything, it only knows what you tell it to do. She does give exact directions, or code, and has a fun day at the beach! I borrowed this book from our public library, and you can borrow it from the Dearborn Public Library using your Dearborn Public Library card!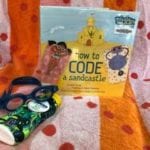 Scooby-Doo be doo, here's a book for you!  Do you like a good mystery?  Check out Scooby-Doo Dinosaur Dig, it's a picture book, which means you read some words as well as some pictures!
Down to the Sea with Mr. Magee, by Chris Van Dusen, tells about a fun trip out on the water!  A fun and colorful story that you can read and watch on Tumblebooks, which you can access on the Dearborn Public Library site using your Dearborn Public Library card.  Enjoy!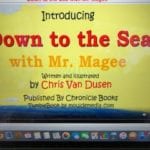 Have a great weekend, and I can't wait to hear about the good stories you're reading!