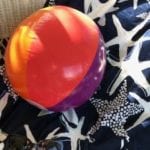 It's a great summer day for the beach or the pool. However, if you can't go to the beach, you can read about one, and that's almost as much fun.
I read this wonderful book called Mermaid Dance. The author is Marjorie Hakala and the illustrator is Mark Jones. It's a wonderful tale about mermaids and their adventures at the sea.
Do you like dragons? I sure do!  Read the story When A Dragon Moves In by Jodi Moore, illustrated by Howard McWilliam.  You can find this story on the website https://www.storylineonline.net/.  Find out what happens when a dragon goes to the beach!  Read this story and let me know what your favorite part is and if you liked it.  You can comment here on my blog or send me an email.  
Have a great day, and keep reading!