What a fast day! Shortened classes and Field Day to look forward to!
6/7 Quick Write: (I am collecting your TWO Quick Writes today!)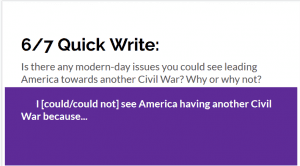 Again, you must complete your Unit 5 Wrap Up ASAP.  COME DURING LUNCH TODAY IF YOU DID NOT FINISH THE TEST YESTERDAY (THURSDAY), OR IF YOU NEED HELP WITH CORRECTIONS.
Also, any missing or late work from throughout the semester needs to get in. I will not have time next week to grade make-up work.
Today we are continuing with a quick overview of the Civil War. We are not discussing specific battles or concrete events from the war– we are looking at why it ended like it did (why did the North win?) and what were the effects of that victory.
You will be completing the second half of the handout from yesterday, continuing the "Part 2 Questions". See attached handout: civil war q's pt 1 & 2
Here is some helpful vocab: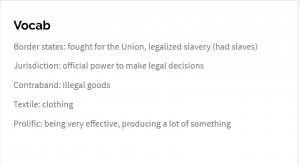 After you watch this video and answer the questions, we will review. Then you will TURN IN the handout.
Have a lovely weekend!

Posted in Blogs by Kate Ulfers with no comments yet.