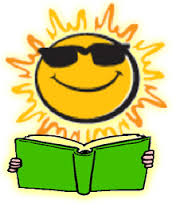 Dear Families,
The end of the school year has passed so very quickly. It seems like we were just beginning to learn about classroom routines AND a little about each other, and now, it is time for me to say goodbye to you as you continue on to middle school. I want to thank everyone for making this year an unforgettable one. I will genuinely miss every single one of my students and their families. A few things to remember this summer:
*Students will be expected to complete 60 minutes a week in math on Khan Academy as well as reading a minimum of 3-5 chapter books during the summer. Students should be prepared to do a book talk at the beginning of the school year. Every student was shown how to use their account on I-learn to complete these requirements. I have attached the document that will help you understand the requirements better. You may use this document to help aid summer learning. Students should continue to visit the reading site IXL over the summer.
I would like to leave you with a few things I find important in my life:
Read, try to make someone smile, help someone, say a kind word to someone, dream things you'd like to do and work to make them possible. And, at the end of the day, be able to say, "Yes, I used the day, well." Remember…YOU make your own HISTORY!
All the best,
Mrs. Schafer