WE HAVE BEEN LEARNING LOTS OF NEW THINGS AND HAVING LOTS OF FUN WITH OUR FRIENDS AT SCHOOL!
MOHAMED COUNTED TO TEN! YAYYY!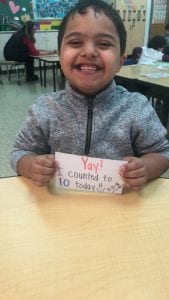 MANAHEL AND NOOR ARE GREAT COUNTERS, TOO!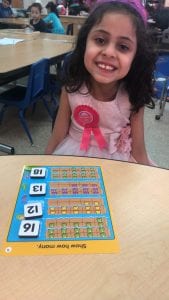 ABDUL LOVES TO PRACTICE READING SIGHT WORDS – EVEN DURING RECESS!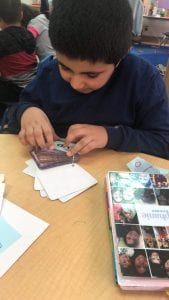 WIAM WAS OUR STUDENT OF THE WEEK LAST WEEK. WAY TO BE SUCH A GREAT STUDENT, WIAM!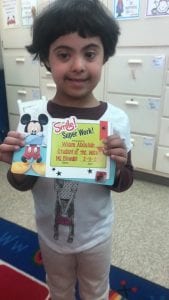 WE CELEBRATED MANAHEL'S 7TH BIRTHDAY! SHE BROUGHT IN YUMMY CUPCAKES AND JUICE BOXES. SHE GAVE EACH STUDENT AN AWESOME GOODIE BAG FULL OF TREATS TO TAKE HOME. THANK YOU SO MUCH, MANAHEL! WE LOVE YOU!
 
WE HAD A BUNCH OF FUN ON VALENTINE'S DAY . . .

WE ATE YUMMY VALENTINE DONUTS FOR BREAKFAST THAT MS. BOWDELL BOUGHT US. WE EACH GOT TO PICK WHICH ONE WE WANTED.


WE TOOK CUTE PICTURES WITH MS. BOWDELL'S HEART GLASSES THAT SHEREEF GAVE HER AS A GIFT.
WE TOOK A GREAT CLASS PICTURE!
(ALTHOUGH LOTS OF FRIENDS WERE ABSENT THAT DAY. :[ )
SOME OF US TOOK SILLY VALENTINE'S DAY PICTURES WITH OUR TEACHER.
WE PASSED OUT VALENTINES TO OUR FRIENDS.


(uNFORTUNATELY I DIDN'T GET PICTURES OF EACH CHILD PASSING OUT THEIR VALENTINES, I APOLOGIZE.)
ON FEBRUARY 21 WE CELEBRATED OUR 100TH DAY OF SCHOOL!
WE READ A STORY TO LEARN HOW TO CELEBRATE THE 100TH DAY, WE COUNTED TO 100, AND WE PICKED WHAT WE WISH WE COULD HAVE 100 OF – IF ONLY! 😉

OTHER PICTURES . . .