Upon returning from an ab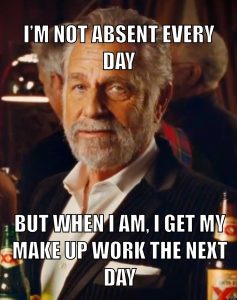 sence, you should
First, ask a fellow classmate what you missed.
If you need clarification, ask me – your teacher!
If it's a worksheet, approach me after class to get a copy.
Don't forget! You can always access this blog for information OR email Ms. Sabbagh directly at SabbagS@dearbornschools.org.
Have a system in place – don't let absences bring you down!
Be accountable – every day of your education counts towards your present and future success!