email me: cookc1@dearbornschools.org
Music Lesson 5/26 Kdg, 1st, 2nd
email me: cookc1@dearbornschools.org
Music Lesson for 3rd, 4th, & 5th May 26th signed in as you! cookc1@dearbornschools.org
Lesson for Kdg-1st May 11th
Lesson May 11th 2nd-3rd
Lesson May 11th 4th and 5th
Lesson for 5/4 Kdg and 1st
Lesson for 2nd – 3rd 5-04
Lesson for 4th – 5th 5-4
Lesson for Kdg – 1St 4-27
Lesson for 2nd-3rd 4-27
Lesson for 4th-5th 4-27
Lesson for Kdg-1st-2nd 4-20
Lesson for 3rd-4th-5th 04/20
(page includes Week of 03/09/2020, 03/16/2020, 03/23/2020, 03/30/2020)
5th grade:
Week 04/13/2020
Hello 5th Graders. I hope you are well and having a safe time at home with your families. I hope when you are out, you are wearing your masks and gloves. Stay home if you can.
I hope you were able to follow my last "science experiment" with the plastic bottles. It's fun when you finally get the bottles tuned well enough to sound like something when they are played.
This week includes some creativity on your part. I would like you to try and make some cup rhythms to go along with your favorite song. Pick a clean song off the internet. If you don't care for that, you can find a beatbox sound or some kind of house music that has a steady dance beat to help with the activity.
Get two plastic solo cups, or disposable cups. OR if you have plastic cup of the same size. Put those cups in front of you and begin making some rhythms using a surface, legs, hands, snaps, claps. Here is an example.
If you want to learn this routine, and then make one of your own, that's fine too. It's fun. Just make sure you don't destroy any of mom's plastic cups or tables surfaces. Take it easy.
How about some recording yourself on your phone and sending me the performance to my email? cookc1@dearbornschools.org
Have you tried using two pencils to make some music? Find a surface you won't damage, like a closed book or a plastic chair. Start slow. This example below is more complicated, but if you slowed it down, it's really only 3 different sounds on the right hand and tapping fingernails on the left.
Songs to sing:
Have a happy and healthy week!
Week 03/30/2020
Greetings to all my 5th grades. I miss seeing you all. Being stuck at home has been difficult, but staying healthy is more important. I hope you and your family are feeling well.
This week's lesson is a science experiment. I want you to collect empty plastic bottles that are all the same. Do you have some pop bottles? Water bottles? How many do you have? Gather at least 5 and wash the opening with soap and hot water to get the germs off.
Fill the first bottle maybe an inch and try to make sound by blowing across the opening. This is the close to the sound a flute can make. Keep blowing until you get a good straight sound. Like a "toot".
Now fill the next bottle so that it sounds like a re from the bottle one. Keep adding water to each bottle until you can make a do, re, mi, fa, so. If you have more bottles make a grouping of 8 and have a do, re, mi, fa, so, la, ti, do. This way you can try to play songs.
Play name that tune with someone once you have perfected your "toots"!
Do do so, so, la la so___ fa fa mi mi re re do___ (Twinkle)
do do do re mi, mi, re, mi, fa, so___ (Row, Row)
Try to figure out some songs and get others to guess.
Week of 03/23/2020
Hello again to my 5th grades at both Becker and Henry Ford. Hope everyone is healthy and feeling well. I know this lock down has been interesting with my cats and dog. Even the snake acts like she would rather eat out!
New Project for all of my 5th grades:
This is a chance for us to explore and learn about music of the past and all the way up until now.
Music has been around for centuries. Before people wrote it down, people would share it with their community. Music was used back then, much like it is used today. An expression of thoughts and feelings.
No, you don't have to listen to every piece that was ever written, but listening to a group of composers (people who write music) could help you find something you might enjoy and be ready to talk about it from the sites below. Copy and paste these addresses into your browser one at a time. These three addresses will help you find composers and their music.
https://en.wikipedia.org/wiki/List_of_classical_music_composers_by_era
https://www.musicnotes.com/now/news/musical-periods-the-history-of-classical-music/
https://www.liveabout.com/classical-music-composer-timeline-723894
Week of 03/09/2020, 03/16/2020
Continue to research on-line presentation ideas. You may wish to do one or more of the following projects with your partner(s) that you have chosen.
Sing/rap a clean song with some kind of accompaniment you may find on-line. Type up the song/rap and the music source you intend to use.
Stand up routine with jokes about music. You may wish to make some up yourself or research some jokes on line. Find some appropriate music for the background. Type up the jokes and the music you intend to use.
Typed biography of a music artist or group as we have done in the past. You can include birth, death, locations, what is their talent and how they came to be interested, do they write their own songs/raps, who taught them, etc.
Draw/paint something about music and give a brief description about how you became inspired to choose this person, place or thing. How did you go about finding it and rendering it.
Rhythm cup routine would be nice to perform. There are several on- line examples you may wish to learn or make up one of your own. Please be able to present this in class. Type a brief description and be prepared to share. You can add , pats, claps, snaps, finger rhythms
If you have any questions, please email me at: cookc1@dearbornschools.org
Some sites you might find helpful in your searches:
www.pbs.org search for a style of music you enjoy
www.biography.com search for a music artist you like
https://www.classicfm.com/discover-music/latest/classical-music-jokes/
https://www.ducksters.com/jokes/music.php
http://www.getcoloringpages.com/music-coloring-pages
https://www.poemhunter.com/poems/music/
4th Grade
Lesson for 04/13/2020
Hello 4th grade. I hope you are well and trying to do your schoolwork during this time we are apart. You will want to be ready for 5th grade!
We will start off with some songs and then get into some ways to practice some of our recorder songs. Our focus at the moment is "patriotic songs".
Patriotic songs are songs that expression national pride or respect. Here is the National Anthem of the United States. Do you know how to sing it? Many times it is sung in public for activities like sporting events.
Do you know a patriotic song from another country? Can you send me a youtube copy to share with me? My email is cookc1@dearbornschools.org
Next we will try another patriotic song called "You're a Grand Old Flag" Little people like march to it.
Now we will turn to the recorder portion of our lesson. Remember to warm up on some of the beginning songs to get your notes to play correctly. Remember to play with your left hand on top and your right hand on the bottom. B is first finger and thumb, A is first two fingers and thumb and G is three fingers and a thumb. This song adds E three fingers on top and two fingers on the bottom, and D is 3 fingers on top and 3 fingers on the bottom. Blow warm air to secure the D. Otherwise it will squeek!
The most important notes to secure are the D to G. If you can't go from the D to the G without hiccup, the play each note slow and make sure it speaks.
D___________ G____________ Keep playing until you have the notes secure. Then start to practice the other notes. Lines 1, 2, and 4 are the same. Line three is different. With a chick chick chick here, is made up of Ds and Gs. Just like you would sing this song. Work slowly and when it doesn't sound right try again.
Next group of students who are close to or are working "When the Saints". It is important to work on the pattern that happens 3 times in order to get started. Play g_____ b______ c_______ d__________. If you get this far then you have to work on how long to play each one. d is played with a tie over 4 beats and the down beat of the next measure. That is 5 beats 1-2-3-4-1 counted in your head. Try it d_____________. Now add the 3 notes before.
G___B___C__ D_______________ Do not break the 5 beats, just one smooth connection. Try that 2 times as written and then the second line changes to half notes counting 2 beats per note. On the words in again is a whole note tied to a quarter note making 5 beats.
Keep this rules for each kind of rhythm
quarter in one beat
half note is 2 beats 1-2-
dotted half note is 3 beats 1-2-3-
whole note tied to a quarter, 1-2-3-4-1-
Keep smiling and keep practicing. Don't lose your instrument so you can collect your belts next year when you come back to school.
lesson for 03/30/20 Good morning! Here is a really fun way to see how well you know your songs. Follow this link and see what recorder songs you make out on this Virtual Keyboard. Can you play your recorder songs on this piano? If you take some time, figure out other options on this site. You may enjoy learning more about the keyboard. Try clicking on the "letter notes" above the adds.
https://www.onlinepianist.com/virtual-piano
03/23/2020
This site will take you to music that has been played by the Detroit Symphony. Do you hear anything interesting? Anything Familiar? Take your time and explore.
https://livefromorchestrahall.vhx.tv/live-broadcasts
The site below is for further exploration. It is designed with music students who want to know more about music. Games, listening, music writing, – try your hand at whatever you would like.
Lessons from 03/09/2020 and 03/16/2020
practice writing 16th notes, dotted eighth notes with a 16th. These notes you will find in the song "Old Carrion Crow"
youtube has a number of songs you can practice: "Bim Bum", "Carrion Crow"
https://youtu.be/aXZWgOf2lSA, see if you can copy and paste this in your browser. You may recall "Bim Bum" from last year. Challenge yourself and try to write out the rhythms of each example to hand in.
https://youtu.be/4JBVpt4UbK4, can you sing "Carrion Crow"? Copy and paste in your browser and practice clapping the refrain. Note where the 16th notes are located in the song. Circle the words below where the 16th notes occur.
Oh the old Carrion Crow was sitting on an oak,
Fol the riddle, all the riddle, hey ding doh,
Watching a tailor cutting out a coat,
Sing he sing ho, the old carrion crow,
Fol the riddle, all the riddle, hey ding do.
Ki me lea ro, Kill my kea ro, ki me lea ro, kimo
To me bump, bump, bump, jump, Polly wolly lee,
Linko killy cum kimo.
Links that would helpful for your recorder helps:
youtube has many helps by searching for "recorder tutorials"
My blog menus offers the sheet music, but youtube has the accompaniment and sheet music together. Go to youtube and type in the search "recorder karate hot cross buns", "recorder karate gently sleep", "recorder karate merrily", "recorder karate it's raining", "recorder karate old mcdonald", "recorder karate when the saints go marching", "recorder karate twinkle twinkle", "recorder karate amazing grace", "recorder karate ode to joy" If you need more… email me.
3rd Grade
Hi 3rd Grade! This is your lesson for the week of 04/13/2020
Last year at this time we studied some musicals and it seemed that many of us enjoyed the acrobatic dancing and some of you actually liked some of the singing. Well, this year too we have a new movie musical to investigate. It's called "The Great Showman".
Here is one of the more popular songs. How many people can you hear singing this song "A Million Dreams"? Email me your answer to cookc1@dearbornschools.org Tell me if they are children or adults, men women, and how many? I think I heard two voices at once!
As you may know there used to be circuses around the world that taught people about animals. Much like a traveling zoo, but not as focused on just animals. There would lions, tigers, bears, snakes, zebras, and all sorts of creatures you don't see everyday. Then there might be unusual people who were very very tall or thin or a woman who could grow a beard. There were even people who were twins that were born joined together and would be apart of the traveling circus.
Circuses were no longer considered good for the animals and unfair to people with physical needs. It's purpose was outdated and unpopular. Here is a song about being yourself, called "Come Alive". This song is about the leader of the circus trying to get unusual people to feel comfortable with performing on stage. He is telling them to not hide, but come alive and be comfortable with themselves.
This lesson ends with a little dancing from some young people. I hope you enjoy. Stay safe and healthy!
Lesson for 03/30/2020
https://www.musick8kids.com/html/play_bw.php
Can you play a song on this virtual set of Boomwhackers? Or, make up some of your own tunes. Keep it slow and have fun with it. It might help to make yourself a list of songs you can pick from. Make a game with your sister to see who can play the songs.
Twinkle Twinkle, little Star
Where is Thumbkin
Oh, Do you Know the Muffin Man
The Itsy Bitsy Spider
Row Row Row your Boat
03/23/2020
Check out this site. I think you will enjoy. Simply click on any space to get started. If you like something you wrote, (composed), then save it!
https://musiclab.chromeexperiments.com/Song-Maker/
lessons for 03/09/2020 and 03/15/2020
Continue to practice writing 4 beat rhythms using a variety of 4 sixteenths, 2 eighths, 1 quarter, 1 quarter rest, half note, or dotted half note. Remember all equal one beat except for half note is 2 beats and a dotted half note is equal to 3 beats. Whatever combinations, make sure each measure adds up to 4 beats.
Below is the speech piece "Alligator Pie". Tap a beat slowly on your leg and say the poem to the beat. What word or words come out with 4 sounds per beat? Alligator is one. It uses 4 sixteenths. See what other rhythms you can find in the speech piece.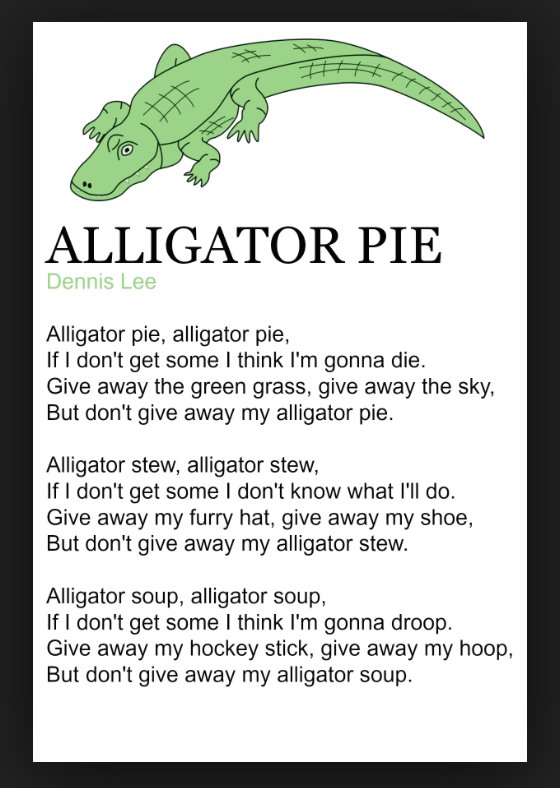 Interjections! https://youtu.be/YQ0696UhWrc (copy and paste this in your browser)
Cough! Cough! Cough!)
When Reginald was home with flu, uh-huh-huh,
The doctor knew just what to do-hoo.
He cured the infection
With one small injection
While Reginald uttered some interjections.
Hey! That smarts!
Ouch! That hurts!
Yow! That's not fair givin' a guy a shot down there!
Interjections (Hey!) show excitement (Yow!) or emotion (Ouch!).
They're generally set apart from a sentence by an exclamation point,
Or by a comma when the feeling's not as strong.
Though Geraldine played hard to get, uh-huh-huh
Geraldo knew he'd woo her ye-het
He showed his affection
Despite her objections
And Geraldine hollered some interjections…
Well! You've got some nerve!
Oh! I've never been so insulted in all my life!
Hey! You're kinda cute!
Interjections (Well!) show…
Can you find where the 16th notes fall?
2nd Grade
Hello Second Grade! This lesson is for the week of 04/13/2020
We are taking a look at musicals for the next few weeks. Why? Musicals are a great resource for songs, dances, and great stories. In fact, musicals tell stories using music. I bet you know songs from musicals and didn't even know it.
Let's go Fly a kite is from "Mary Poppins"
Maybe you know Do-Re-Mi from "The Sound of Music".
A Spoonful of Sugar is also from the musical Mary Poppins. Listen to it first and then try to sing it. If you know why they use sugar, email me with the answer at cookc1@dearbornschools.org
Try Step in Time from Mary Poppins. This youtube copy is from a Broadway production and has been changed form the original. The dancing is still really fun to watch. Can you hear the dancers in tap shoes?
Of course you sang this last week, so you should be able to sing it again! Here is "Let's go Fly a Kite". Have a great week and stay healthy!
Lesson for 03/30/2020
There are so many great songs for springtime. It is beginning to look like spring some days and others just look like blah. Try and put a smile on everyone's face, by singing some fun tunes in the house. Here is a challenge to learn 3 spring tunes!
Lesson for 03/23/2020
This time of year would be a great chance to explore musicals. A musical is usually a telling of a story using music. Some musicals use costumes, back drops for the stage. It all depends on the story and how the producers choose to tell the story.
I would like you to explore the new Mary Poppins this week and make note of the new songs, and the new dances. It's fun! You can also go to youtube and see "behind the scenes" and "meet the actors".
lessons for 03/09/2020 and 03/16/2020
Hello 2nd grades! How are you doing during this time off? I hope you are all doing your work with your classroom teachers and getting your assignments done. Music class will have many of the same skills, but you will have to be creative. I hope you enjoy creating!
First, you can practice all the songs that you and I had worked on for the concert, but that will not be the focus of class. Same with "Gonoodle", or "justdance" routines that we have experienced. Feel free to pull out some old songs like "Old Brass Wagon". Get your mom to dance with you.
Go to Youtube and find the search. Type in the song or dance you want to find. Sometimes it takes typing in different words to get the dance to come up.
Example: "Old Brass Wagon Dance" "just dance fame" The search is not case sensitive. https://youtu.be/cjNYLPvr9rk
Your first week on line, we are going to be making some shaker instruments. It's a little project that I like to do with 2nd grade, but it is actually easier to do at home. It can be a little messy, so make sure you put some old newspaper on the kitchen table when no one will be using the table.
Find a paper towel roll or toilet paper roll that is clean of all debris. Ask mom for two sheets of paper towel and two rubber bands. We need some rice, or cream of wheat to make the sound of the shaker. Now begin by carefully folding the paper towel into 4 layers. The attach it to the end of the roll by smoothing it over the end and wrapping the rubber band to hold it in place. Elmers glue is good to keep it in position. The rubber band has to be loose enough so it doesn't crush the end, but tight enough to stay on. Let this dry for few minutes. Below is a video to help you.
Make sure at this point, that you only have one end closed before putting in the shaker material. (rice or cream of wheat) Don't shake it now or you will lose the contents. This next step will be important to not use too much glue. Fold the second paper towel and attach to the other end and secure with the rubber band. Let this dry for a good 10 minutes.
Now your instrument is ready to decorate. Some people use paint, while others use tape, paper, stickers, markers. Think out your colors and design and then decorate. Shakers away!
If you want, there are more instruments on this video to make. Have fun with it and share this with your family. I bet they will want to make one too.
Songs to Memorize:
I just wanna Run https://youtu.be/GTSgD_xnAY8
Down in the Valley https://youtu.be/vcwFoX3j6zI
1) Down in the Valley, the valley so low,
Hang your head over, hear the wind blow.
Hear the wind blow dear, hear the wind blow,
Hang your head over, hear the wind blow.
2) Roses love sunshine, violets love blue,
Angels in heaven, know I love you.
Know I love you dear, know I love you,
Angles in heaven, know I love you.
I've Got Rhythm https://youtu.be/qMmNjGvLUUg
When you Believe https://youtu.be/v3e1lz0Ghp8 stop at 4:58 English only
1st Grade
Lesson for the week of 04/13/2020
Last week we started working on the song from the Sound of Music called Do, Re, Mi. We were working on recognizing the scale from this song.
do re mi fa so la ti do is the scale we have sung together in music class and it is where we can take notes from to make songs.
Let's warm up with this recording. Sing this several times with the recording and then try singing it without the recording. Sing the syllables.
The song Mother Mother I am sick is a song that uses only so-mi-do.
Mother Mother I am sick,
so – mi – so – mi so- mi so
call for the doctor quick quick quick.
so – mi so – mi so – so do
In came the doctor in came the nurse
so – mi so – mi so- mi – so
in came the lady with the alligator purse
so – mi so – mi so – so – do
I don't want the doctor, I don't want the nurse,
so – mi so – mi so – mi – so
I don't want the lady with the alligator purse.
so – mi so – mi so – so – do
Try this So – Mi challenge by echoing the lead singer. Listen first and then sing after her.
To end our lesson today, let's song Do, Re, Mi.
lesson for 03/30/2020
Hello First Graders! Hope you are enjoying your time at home with your family. I know my 4 cats, one puppy and snake are getting rather used to me being home. If it were up to me, I would have a sing-a-long to take away the blues!
Here are some songs from the musical, "The Sound of Music" to brighten your smile!
lesson for 03/24/2020
Have you ever made an instrument from something at home? Begin collecting clean pieces of cardboard like, toilet paper roll, or paper towel rolls. You can even find small cardboard boxes that make up nice looking drums.
Ask mom if there is any old wrapping paper or craft paper you can use to decorate your project. Begin to plan your design, based on what you have around the house. Here are some ideas.
Lessons for 03/09/2020 and 03/16/2020
I hope everyone is in good spirits as we get through this virus thing together. I miss seeing you and I hope you are all safe.
Your first lesson this week is review of some songs and learning new ones. I'd like you to have someone helping you by typing the name of
"Old Brass Wagon" copy and paste this address in your search https://youtu.be/vcwFoX3j6zI
Ask your brothers and sisters if they would dance with you. If you are alone, then use a small circle space to practice the dance. See if you can keep the beat and be with the dance during the whole dance.
The first song is "Jambo Bwana" https://youtu.be/kY0VucZrgWA
First thing you should repeat the words to get the pronunciations correct. It's good to be confident when you put the words to music.
Jambo, Jambo Bewana,
Habari Gana, Mazuri Sana,
Wageni, Mkaribishwa,
Kenya Yetu, Hakuna Matata.
(repeat)
Do you have something like an empty box in the house? Ask mom's permission to play the steady beat while you sing. Hopefully you will keep singing and playing the steady beat with the music. Otherwise, keep the beat on your legs (gently).
"Light a Candle for Peace" https://youtu.be/lazbjWMWHzc
See if you can sing the higher part with the other voices that are singing the lower part/. I am looking for those who can sing the "extra" part without stopping. That would be the yellow and then blue at the end. Don't sing loud, but do use a soft voice like Mickey or Minnie Mouse.
Can you practice drawing quarter notes like you keep in the Jambo song? Draw a small circle and color it in. Then draw a straight line to the colored in circle.

Then try the eighth notes by making two circles first and the color them. Draw two straight line to the colored circles. Then make the top line over the top.
Can you write a 4 beat rhythm? What you ta ta titit ta look like? Would you like to make an art project out of it and use different color crayons? This should be fun!
Kindergarten
Hello Mrs. Isham's Class!!!!
I hope you are well and are enjoying your time with your family. I hope you are doing your best to listen to mom and dad.
I think we will stick with the songs below to see if you can sing them from memory. This is a group that sings well when you know t words. Can someone help you with the words?
Go to the lessons below and sing the youtube songs. Can you keep the beat on a box or on your legs? Can you tap – clap, tap – clap to one of the songs?
Lesson for 03/30/2020
Add these songs to make your spring a little happier!
Can you echo sing this next song?
Hope you have a happy healthy Spring break!!! Can you name the tune for this next song? Hint: It's really Itsy…
songs to learn 03/09/20202, 03/16/2020, and 03/24/2020
Add songs this week 03/24/2020
Hickory Dickory with a new twist!
Good day Mrs. Ishams's class. I miss you and wonder if you are on-line doing all your homework. We we have some songs to practice too. Try and keep the beat gently on your leg as you work on the words of the song.
Ask mom or an older brother or sister to read the lyrics of the songs. Can you sing the song?
#1 "Down At the Station"
Down at the station, early in the morning,
See the little puffer bellies, all in a row,
See the engine drive pull the little handle.
Puff, puff, toot, toot, off we go!
#2 New: "I'm a Little Teapot"
I'm a little teapot, round and stout,
Here is my handle, Here is my snout,
When I get all steamed up, then I spout,
Tip me over and pour me out.
#3 "Mulberry Bush"
Here we go round the Mulberry bush,
The Mulberry bush, the Mulberry bush,
Here we go round the Mulberry bush,
So early in the morning,
This is the way we wash the clothes,
Wash the clothes, wash the clothes,
This is the way to wash our clothes so early in the morning.
(wash your clothes on the wash board or rotate like a washing machine)
This is the way we iron our clothes,
Iron out clothes, iron our clothes,
This is the way we iron ourt clothes,
Early in the morning.
(move the imaginary iron across the board)
This is the way we sweep the floor,
Sweep the floor, sweep the floor,
This is the way we sweep the floor so early in the morning.
(take your broom and sweep the floor)
Can you make up some chores that you help with? Can you "taker out the trash"? "Make some Sandwiches"?
Last activity: Old Brass Wagon Dance
Can you show mom how to to do this dance by following the words? Practice by standing and making your own circle and pretend you have a partner or teach a younger person to help you. Have fun!