Pumpkin week next week.. Thank you to Adam, Rayon and Isaac's families for donating to our pumpkin week!  We are going to have a lot of fun learning all about pumpkins:)

Halloween parade & costumes: Please refer back to the letter that was sent or the classroom blog. Thank you:)
Congrats to Abbas for wining the Kindergarten poster contest for Habit #1: Begin with an End in Mind! The habits we learn each month will teach us to make better choices and learn to me more mindful at school and at home:) Way to go Abbas!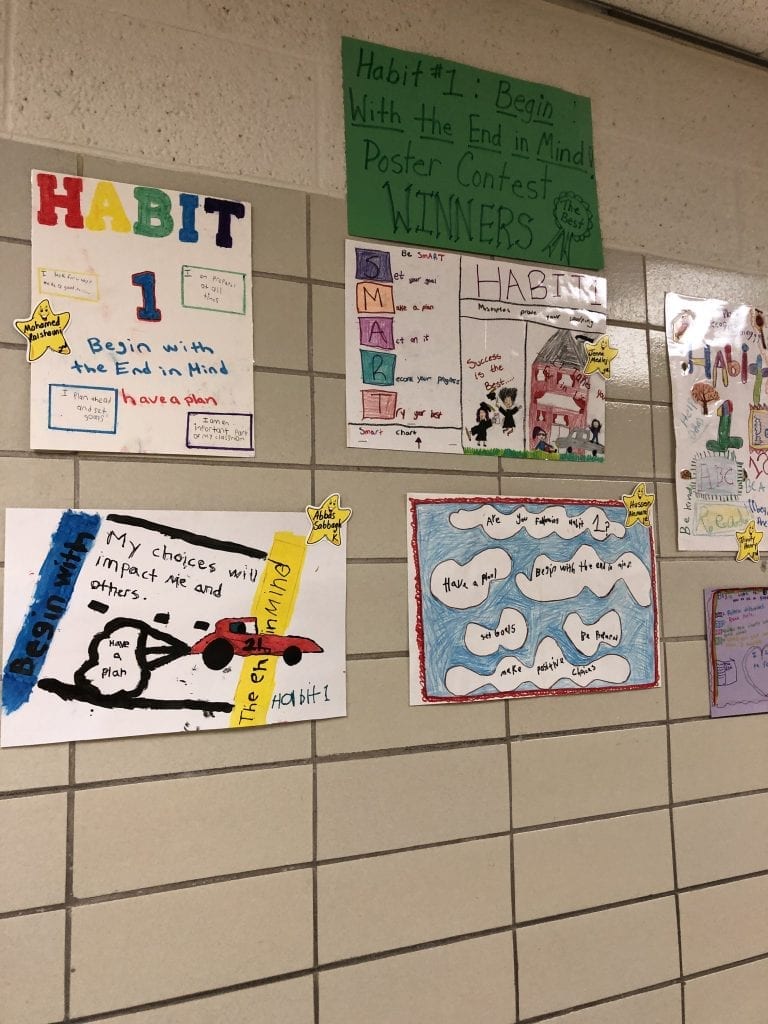 What we did during our week:
Language Arts: This week we learned how to write, recognize and know the sounds of letters F & U! Next week, we will focus on letters G & T.
Writing: This week we learned how to write letters F & U inside the lines:). Please make sure your child is practicing at home how to write inside the lines; especially on their homework! Next week we will focus on letters G & T.

Math: This week we focused on Module 1: Lessons 21-27 . Next week we will complete Lessons 28-31. Monday we will do lesson 28, Tuesday lesson 29 and so on. Please make sure you are following along in the Eureka math homework book and completing the lessons at home with your child:)

Science: For October, we will focus on push and pull!

Social Studies: For October, will will focus on rules and procedures.
GREAT NEWS! We have a book club online at scholastic.com! Each month there are awesome deals with latest and the most reasonably priced books online! All you do is order at the link below, use the code and your books will be sent home to you within 5 days:) It's a great way to build your child's library at home and books also make great gifts as well:) All the information is below! Happy reading!
Scholastic Reading Club:
Class Code – RKYTJ Order Due Date – 10/25/19
Dear Families,
This is a friendly reminder that your Book Clubs orders are due by 10/25/19. You can place your orders online at scholastic.com/bookclubs using my class activation code: RKYTJ
Happy Reading, Mrs. Fillmore
https://editions.mydigitalpublication.com/publication/?i=611465
Other:
Homework packets will come home on Monday! Please read over the direction page and complete a half sheet each day. The packet is due back to school every Friday! If there is no school on Friday, the homework will be due on Thursday. Remember, reading with your child 15 minutes a night is also a part of our homework! You may use the reading websites (I sent home earlier this week), to complete the reading portion of homework as well:) In November, we will start having a monthly reading log sent home!
Make sure to go on the learning websites that Haigh has purchased for all of our students! These websites are great extension activities in Math and Reading that are full of fun and learning! Make sure to visit: Raz-Kids, Reading Eggs, Math Seeds and Zearn during the week and weekends!
Please consider buying something from our Scholastic Book Club at: https://clubs.scholastic.com/ Activation code: RKYTJ. The October date to order books will be by the 25th. You will have the chance to buy something from our book order each month:)
Housekeeping items:
Please make sure to pack a healthy snack each day! No chips, juice, cookies are to be brought into the classroom. We are trying to promote healthy eating choices in the classroom! Even the teachers are eating healthy snacks with the students as well:)
Make sure you provide your child with a NUT FREE snack. We are a NUT FREE classroom. Thank you for your cooperation!
Talk about what your child is doing for lunch each day. We are still having some trouble with students not understanding the DIFFERENCE between snack and lunch! I appreciate you taking the time and talking with your child:)
Please make sure to go through your child's folder each night, look at your child's work (see how they did), look at behavior, read any notes and sign in each day. Looking at your child's work and behavior will give you an idea of how your child is doing in class. If your child is unable to complete any work in class, it will be sent home for homework and expected to be brought back the next day completed. Thank you for your cooperation!
Be on the lookout for volunteer opportunities at Haigh via signupgenius.com. I'll post a link to the blog for different opportunities to donate items to the classroom or to come and help out! We will have a couple times to volunteer in October…we love our volunteers!
Every Monday is library check out! Please make sure your child is returning his/her book so they can check out a new book for the week. If you misplace this book or lose it, there will be a cost for the missing book!
Every Friday will be Kindergarten t-shirt day! We love being in the same shirts and showing our Kinder pride at Haigh! If your child forgets to wear their shirt, it's ok, this is optional for everyone:)
November parent teacher conferences are right around the corner! I will be sending reminders, about your special day and time, in a couple of weeks. Be on the lookout:)
Upcoming Events:
October 21st- Star Student worksheet coming home!
October 21st- Pumpkin Week starts!
October 25th- Star student worksheet due!
October 25th- Halloween Dance (6 pm in gymnasium)
October 25th- Last day to turn in box tops!
October 31st- Fall classroom party and parade day! More information is on the blog and a letter was sent home:)
Reading buddies: This week we read with our book buddies. We enjoyed listening to the stories our book buddies picked out for us:)