Cold weather is coming! Please practice putting on and taking off coats, boots, shoes, scarves, gloves, etc. Your child should be able to do all of these things independently!
Remember, if you have not already sent your child's library book back, please do so on Monday in order for them to check out a new book!
Upcoming Events
10/10 Skeleton Centers
10/11 Half Day – dismissal at 11:40am
10/15 PTA Bingo for Books 6:30 – 7:30
10/16 Late Start – arrival at 9:35am. School starts 9:40am.
10/17 Scholastic Book Order Due
10/18 School Store at Lunch
10/25 Halloween Dance – 6pm
10/31 PBIS Party – Cider and Donuts
10/31 School Costume Parade/Class Halloween Party
11/1 Half Day – Dismissal at 11:40am
11/5 No School
11/7 Conferences – If you signed up for this date, reminders of the time you signed up for will come home a week prior!
11/11 Book Fair in Library (2:30 -3:00)
11/12 Conferences – If you signed up for this date, reminders of the time you signed up for will come home a week prior!
Agenda for the Week
Reading & Writing: We began learning sight words this week. The kids love singing songs about sight words. We focused on I, the, and like. Below are a few of the songs we sang in class:
I also created a video about sight words which gives great ideas you can use at home to help your child learn sight words. This video, along with many others I have made, is posted on the "how to videos" tab at the top of the blog. I have also posted it below for your convenience:
The sight words for the month are: I, like, the, and, we, see, a, to, come, with, me. These words will be assessed on 10/23. This is different than the original date I sent home of 10/25. Thank you for your understanding in my need to switch the days. All children are receiving one-on-one tutor time on the sight words using flash cards, magnetic letters, dry-erase white boards, and much more! If your child already knows the words on this list, we are working on having them write them! They have not truly mastered the word until they can read it and use it in their writing as well!
We also began learning about nouns. We learned that a noun is a person, place, thing, or animal. This will help us increase our skills in writing!
This is the video we use in class to support our learning:
The children are learning about parts of a book such as the front cover, back cover, spine, title, title page, author, and illustrator. We are learning how to retell using key details from the text. The children learned that to make a prediction is to make a good guess and we had fun doing an activity to go along with some Halloween books we have been reading in class!
This week we worked on the letters Dd and Ww, as well as the sounds these letters make. We learned how to write each letter and where each letter should be written on the line. The children learned that some letters stand on the line, some sit on the line, and some hang down below the line. We practice writing in a straight line without having any letters floating or crooked.
If your child has not mastered all of their uppercase and lowercase letters, as well as knowing the letter sounds, this video I made can help give you ideas to use at home to increase these skills:
I am still testing the children on their independent reading levels in order to prepare to work with children in small groups and to be able to send home books at each child's individual reading level!
Please utilize RazKids, Readingeggs, and Mathseeds at home. These are all wonderful resources to progress your child's skills. When your child first logs on to Readingeggs and Mathseeds, it will ask them to take an assessment. This assesses their skill set and places them at the lesson that is best suited for them. Some of your children may start on lesson one or some may start on lesson nine. I love these programs because they place the kids at their own learning level!
Math: This week we worked more on counting, counting on from any given number, one-to-one correspondence, using number bonds, and addition. We also used unifix cubes for the children to have hands-on experience with making two groups of numbers, pushing the two groups together, and then counting all the cubes to find out "how many in all." The children are doing well with this beginning concept of addition!
Here are some number bond videos in case you are unfamiliar with this term. We also call number bonds, "part-part-whole."
The children are also working on their subitizing skills. This means they can look at a group (or set) of objects and tell how many there are quickly. Here is a video we have been using in class to support our learning:
Science: This week we continued learning about apples and completed a taste testing to determine if different colored apples taste differently. The children concluded that red apples taste sweet and green apples taste sour. Here are some pictures from our experiment: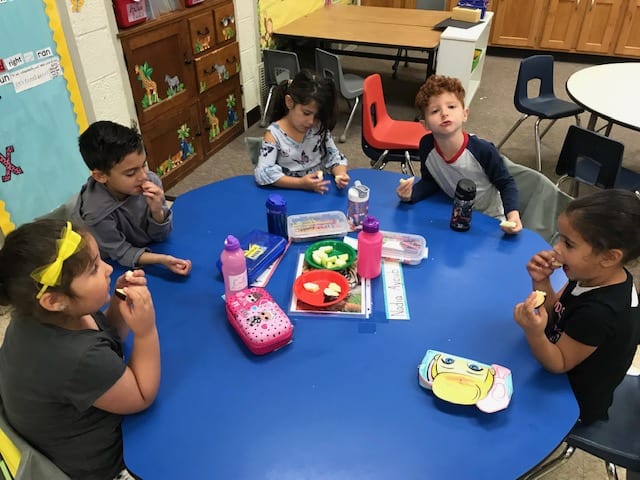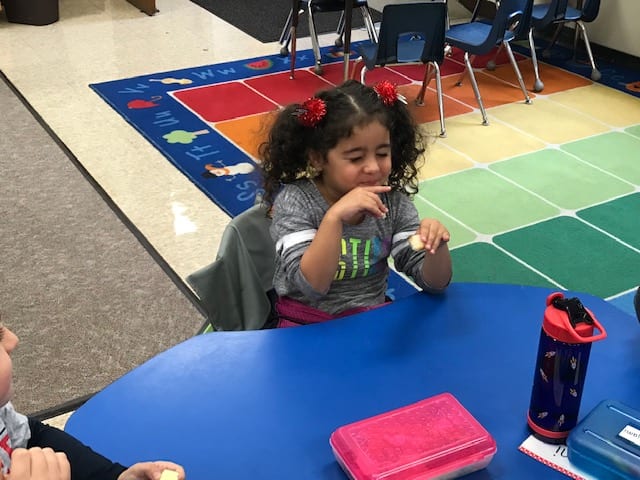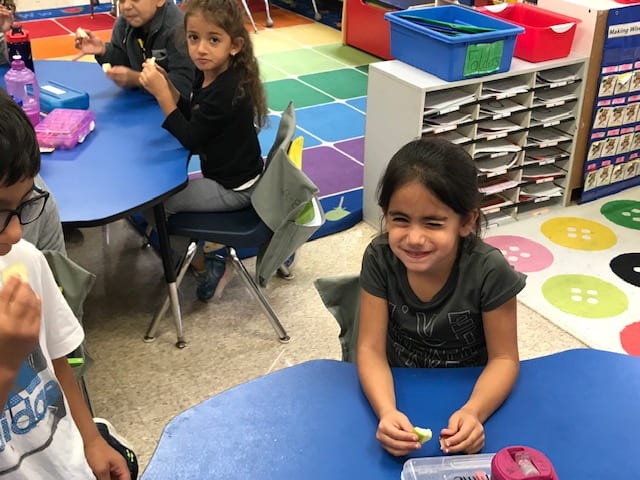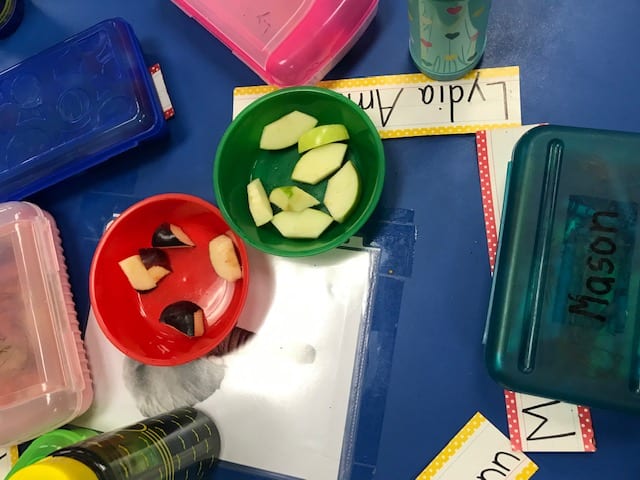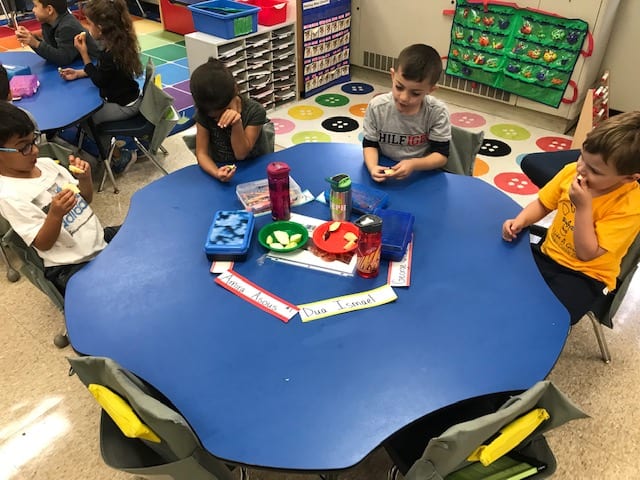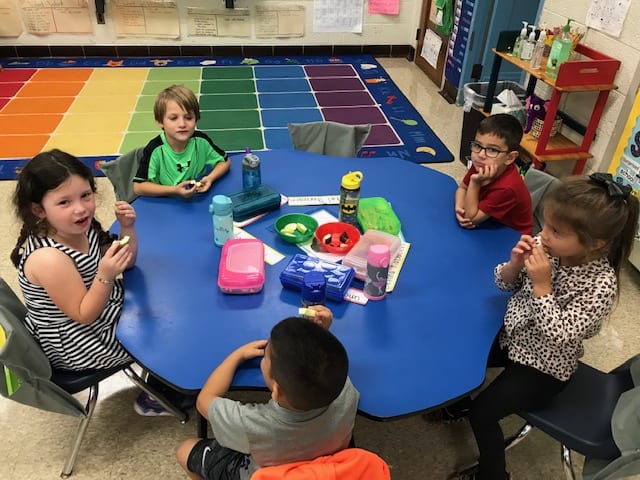 I love their cute sour faces!
Social Studies:  We are focusing on identifying our feelings and using our words to express how we feel rather than using actions. We are fortunate to have the social worker pushing in to our room on Monday mornings to help us further our understanding of our feelings, identify them, and use them to express how we feel and what we want. We learned sentence stems this week to use our words to work through problems such as "I don't like it when…" "It made me feel…" "Next time, please…" "I am sorry for…" and "I am sorry I made you feel…" This has been a great time of learning for the children and a great way for them to express themselves. I am happy the children feel comfortable to share their feelings in class and glad we are taking the time to focus instruction on the social-emotional needs of our children!
Housekeeping Items:
Folders
Please make sure to empty the folder each night! It is very difficult and time consuming to locate homework or important notes when the folder is full of papers from the day before. Please be sure to send the folder to school each day. It is a big part of our arrival and dismissal routines and the folders help the children keep all of their papers organized