Dearborn High School Media Center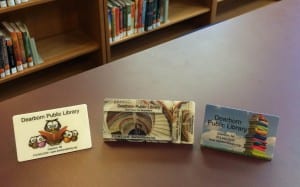 September is Public Library Sign-Up Month
If you don't have a public library card, get one this month.
You can fill out an online application prior to coming to the library by downloading it here.
Free cards are issued to:
Dearborn residents
Non-resident Dearborn taxpayers and their family members residing at the same address Proof of current payment of City of Dearborn taxes is required.
Family members residing at the same address as non-resident paid cardholders
Non-residents who live in the Dearborn School District
Non-residents who are currently employed at a business located in the city or school district of Dearborn. You are required to present:

A letter on official letterhead stationery from their Dearborn employer (this form may be from the personnel office) which verifies employment.
Valid proof of residential address with photo ID.