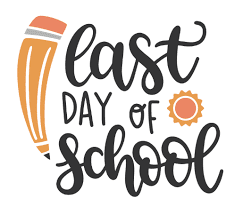 Happy Last Day of School! Although this school year didn't end with us being in the classroom together, it was still a fantastic year with the time we did get to spend together in the classroom. I'm proud of each and every one of your accomplishments in the classroom and the continued accomplishments once we switched to virtual learning. The growth and maturity you all showed by stepping up to the challenges that the end of the school year faced made me so proud. You all will do wonderful things as you continue to grow and move on to bigger things in life.
8th Graders you will be missed. I'm sorry we didn't get to say goodbye, but it's been an honor being your teacher the last 2 years and I can't wait to see how much you strive in high school.
7th Graders you will also be missed. I can't wait to see you in the fall and continue seeing how much growth you make.
You all make me so proud to be a teacher and thankful to be able to be your teacher. Thank you for all your hard work and stepping up to the challenges of virtual learning. You all make me so proud!
Congratulations to all!! Have a fantastic and wonderful summer!!!