Dear Parents and Families,
Wow! It has been a fast, exciting year! I am so proud and overwhelmed with the growth of your children! They have grown to be interested readers, writers and thinkers. They cooperate,work together and problem solve. They enjoy gym, music, science and art. They love to read to each other over other activities. I am so proud of their success both academic and personal!
I have made a video of our year together that I will share with you all over the weekend. I have had some difficulties with composing the music with it, so it will not be done tomorrow. I am sorry for that. However, I will send you the private link via youtube and you will be able to access it at home and on your phone. Once again,You all have very wonderful children and it has been my pleasure teaching them this year. If you have any questions or concerns over the summer, you will be able to reach me through email.
Stay tuned for the video,
Have a Wonderful Summer,
Mrs. Burks!
*********************************************************************************
Wow! This year has gone so quickly!
We are beginning our end of the year assessments. We will be working on the NWEA this week and DRA's next week.
Please look on the blog as I will be putting NEW pictures on our Pictures of our Learning page.
++++++++++++++++++++++++++++++++++++++++++++++++++++++++++++
Dear Parents and Family's,
I am so sorry, I thought I posted Happy Mother's Day on Sunday! I hope your day was Amazing!
Thank you all for the teacher Appreciation gifts and thoughts, your children are amazing!
++++++++++++++++++++++++++++++++++++++++++++++++++++++++++++
Wow, I can't believe it is the end of April! This school year has gone so fast!
This week we will be beginning our Animal reports. Each student will be selecting an animal that they would like to learn more about. We have been working on habitat in Science, so this report will be a chance for the children to pick an animal, find out what they eat, where they live, how their animal survives and what it needs for continued survival. This project will incorporate reading, writing and problem solving skills! The kids are really ready for this! In Social Studies we are also working on maps and where we are in this big world of ours. In Math we are finishing up Module 4 which focuses on addition and subtraction to 10. Having a strong number sense and building our fluency in counting, adding and subtracting. I will also being planting with the kids in the next few weeks! This is always an exciting time!
***********************************************************************************************************************************
Dear Parents and Families,
Next week is Spirit Week. We are working as a building on addressing bullying. Care to the Core is a district wide anti-bullying initiative so for next week here is our focus:
Spirit Week:
Monday the 22nd: Wear yellow to shine with kindness (Do kind)
Tuesday the 23rd: Wear green to be kind (Be yourself)
Wednesday the 24th: Wear blue to be proud (Be a Bronco)
Thursday the 25th: Wear purple to be an upstander (Stand up for Kindness)
Friday the 26th: Wear all colors you can (Be unique but TOGETHER with kindness)
I am so excited for next week!
____________________________________________________________
I can't believe how fast March has flown by!!! It it the end of the 3rd cardmarking, when we come back from our Spring Break we will be in our last quarter before First Grade! How exciting!
All the children have become such good readers and writers! I am amazed everyday by their progress!
Have a Wonderful RELAXING break, keep reading and I will see you all in April!
**********************************************************************************
Wow, March is flying by! During this wonderful month that focuses on Reading, we have had a few guest readers in our room:
Mrs. Danene Charles       Mr. Don Ball     Mrs. Nadra Lamberti
Mrs. Cheryl Hetu        Mrs. LaWanda Gray          Mrs. Amanda
I will keep updating this page with new guest readers!
**********************************************************************************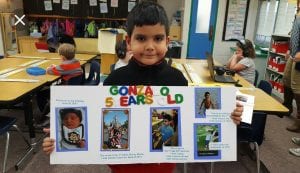 Dear Parents and Family's,
On Friday I sent home the kindergarten assignment of a timeline.
For each year of your child's life post a picture with an anecdote about the milestone event. For example,
1 year old picture –  Ali started running.
Above is a sample picture of a kindergarten timeline.
I hope this helps. If you have any questions feel free to email or text me.
************************************************************************************************************************************
Dear Parents and Families,
I hope you had a wonderful time on our annual Family Movie Night this past Friday night!
This first full week of March is the beginning of March is Reading Month. We will do reading activities and work on our love of reading this month!
Wednesday is our day to go to the book fair, I will send home the book fair flyer tomorrow. Also on Wednesday will be our reading assembly!
Thursday is our Annual Literacy night. There will be many fun literacy activities for you to do with your child and children of all ages. Literacy night is from 5 to 6:30.
I will keep you all updated with the exciting activities we have this month!
——————————————————————————————————-
**********************************************************************************
We have finished our 100 days of school! The kids have grown so much and I am so proud of their progress!
March is coming up and it is READING Month! We will have lots of exciting guest readers and reading activities to encourage life long readers!  Stay tuned for more exciting pictures and activities!
__________________________________________________________________________________________________________________________
Dear Parents and Families,
We will be having a class Valentine's Day celebration on Thursday,February 14th.  Students will be able to share Valentine's if they wish. We have 17 students in our class. We ask you NOT to address Valentine "to" specific friends, it is too tricky for the kids to read the names and pass them out at this age.  Instead, just have your child write their in the FROM section. Students can also bring a treat to share with the class during our celebration. We have 17 students.  If you have any questions feel free to email me. I will send a reminder note on Monday.  Have a wonderful rest of the weekend.
********************************************************************************************************************************
Dear Parents and Families,
February begins Kindness month and Black History Month. We will be working on learning about both of these very important topics. We have begun Black History Month with learning a little about Dr. Martin Luther King Jr. we will continue on with Rosa Parks next. We are also learning how to be a friend, how to accept differences in others and how to encourage kindness in those around us.  I will continue posting spelling words and word families on our Word Wall page. If you have any questions, feel free to email me.
==================================================================================
Dear Parents and Families,
Since today was an Ice Day, I am sending this weeks spelling list to you on the Dojo.
Please practice these words with your child tonight. These words have been on our word wall and the kids are very familiar with them. We will practice them repeatedly Thursday and Friday.      For this first spelling test, due to this crazy week we've had, I will test the kids first thing Monday morning. Starting next week, the list will go home on Friday and the test will be the following Friday.
Spelling words:
1. the
2. see
3. like
4. at
5. bat
6. cat
7. fat
======================================================================================================================================
January 22, 2019
This week begins our Spelling Program in Kindergarten.
Tomorrow your child will come home with spelling words (2 or 3) and a word family to work on all week.
The kids will have 2 dictated spelling sentences to write on Friday. The goal is for these words to come automatically to the kids whenever they are writing.
Once the words were on our spelling lists, the kids are expected to write them correctly from then on.  We will put them on the word wall and they can refer to the word wall for those words.
=====================================================================================================================================
January 22, 2019
Happy New Year!
The school year is going so fast! We are at the halfway point in our year.
The kids just finished taking their NWEA and all did such a great job! I am very proud of them!
As we begin the 2nd half of the school year, I will be focusing on helping the kids to "dig deeper" when reading and writing. I will encourage and teach them how to think and be more introspective. We will continue with our new math program. The kids are doing such great work with this new program! In Social Studies we are working on having them learn where they live and how they contribute to our community as an upstanding citizen.  In Science we will begin working on constructing shelters in dealing with high intensity weather.
I hope the second half of the year goes as well as the first half!
************************************************************************************************************************
December 20, 2018
Dear Parents and Families,
Your child has chosen what they would like to do at the PBIS party. Our PBIS party is before lunch. Their choices were: Dance Party,Toys from home or Movie (25 minute cartoon of Frosty the Snowman). In the afternoon, I will be ordering Pizza as a treat fromme for the children. Please clean out their backpacks tonight as tomorrow they will be taking home many papers, reading bag anda gift from me. Some parents have asked if they can send in a treat bag or treats for the kids. Yes (no cupcakes) we have 17 students. And don't forget tomorrow is pajama day!**********************************************************************************Wow!I can't believe that we are in the 2nd week of December already!
This Friday we have no school for Kindergarten as we are in meetings all day.We have already went to the book fair, however, if you would like to send your child money to buy a book, please send it in by Wednesday.Remember to dress kids to play outside with gloves or mittens, boots, hats and winter coats! We have begun a new unit in Math working on measurement of weight, height and volume.
We are beginning a new unit in Writing working on exposition (non-fiction writing). We are writing bear facts as we have read informational texts on bears.
As always, if you have any questions or concerns, feel free to email me at
burksg@dearbornschools.org.
********************************************************************************
November 26th,
Wow, November is winding down fast!
We had a Wonderful Charlie Brown's Thanksgiving, thank you to all the parents who sent in treats for the kids to share and for the parents who volunteered! We have begun our Second Math Module and are working on shapes in Math. We are beginning a non-fiction writing about turkeys in writing along with opinion writing. The children are really using their personal dictionaries and our class word wall well. In Reading, we are working on fluency while reading, decoding unknown words and making sure we are understanding what we are reading. In Science we will continue our unit on Weather. We will look back at the weather graphs we began in September and compare weather and make one large graph to show our weather pattern. In Social Studies we have begun our unit on Needs and Wants, we will start looking at what basic needs are and how we get those needs met. Parents, you are doing a fabulous job encouraging your child to read every night. Your efforts are showing greatly!
—————————————————————————————————————————————–
November 2018!
How exciting, it is parent teacher conference time!  If you do not know when your conference time is, don't worry. I will be sending each parent a personal Dojo message with their appointment time and day. We are beginning our work on Weather in Science. We have been graphing the weather all year, so we will analyze that data and look at trends. In Social Studies we are beginning our unit on Needs and Wants. In Writing, we are working: adding details in our pictures so that we can add details in our writing, making sure to write using finger spaces, and beginning our sentence with a capital. In Reading we are working on identifying letters, sounds, and sight words. Your child should be reading each night for 15 minutes and doing 15 minutes worth of math. In Math we our building our foundation in tens and understanding in each group of  10 there is a group of 5. Building the foundation slowly now will ensure that your child has a strong foundation later on in their school years.
——————————————————————————————————–
October 14, 2018
This week we will be going to Debuck's Orchard and Corn Maze. We are so excited! I will post pictures later this week. We have gotten into a great routine with Daily 5 and reading groups, Eureka math and stations as well as writing daily sharing our thoughts and opinions.I am adding a link to share Social Stories to our PBIS page. This link is to videos that help children understand the need for fire drills, lock down drills as well as disaster drills for terrible weather that may arise.This week I will begin working with the children to begin actively using the word wall. I have given each child a word wall list in their writing folder to help them during their daily writing.
——————————————————————————————————-
October 7, 2018
Dear Parents and Families, Below is a link for more at home reading sites. Please email if there are any problems. I will be sending home passwords this week for Clever and Razkids. Read at Home Plan Henry Ford Elementary
——————————————————————————————————–
October 4, 2018
Wow! October has come in with a Bang! It has been a very exciting beginning of the year! Our class has really adjusted to this new beginning, the new expectations and our new learning! I am so proud of all that we have done so far! I am so encouraged on what we will accomplish this year.Our first field trip is right around the corner. We have finished our NWEA tests and have clear directions on what we need to learn next.  Open house is Next month. There is never a dull moment in kindergarten!
——————————————————————————————————-
9/22/18
Dear Parents and Families,
Yesterday I sent home a plastic reading bag with letter books and paper books we have made and read together. Please practice reading these books with your kids and remind them to bring them back to school on Monday. The reading bags came in and your child will bring their bag home Monday with these samepaper books as well as some other beginning reading books.Their job is to read the books daily (even if they memorize them)and bring them back to school so we can add to those books. The more they read these easy books, the more phrased and fluent they will read. These are the foundation for harder more complex books.
Dear Parents and Families,
Yesterday we had our first fire drill. It was VERY loud and scared some of the kids. They did great practicing how to get out of the building safely even though they were scared! I'm very proud of them all!
——————————————————————————————————–
9/13/18
Welcome to Kindergarten!
We will be doing so much amazing work this year! I look forward to working with your child and you this year.
We are beginning this year with:
Language Arts – Book studies for the book The Dot and Recess Queen
Math – counting and sorting into different categories
Science – the 5 senses
Social Studies – Rules, Laws and getting along with others
Writing is incorporated with Science, Social Studies and Language Arts as well as Math when it belongs.
We have finished half of the NWEA and will complete the last component next week. I will share those results with you as soon as they finish.
I look forward to meeting you all soon!