Posted by Monica Hankins on June 15, 2017 in
Class News
|
∞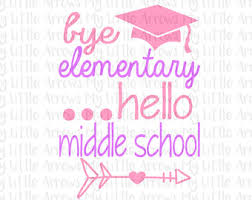 Can you even believe 5th gr AND elementary is over?
Tomorrow students will line up for regular school entry, except there is a surprise for them, you may want to stay & watch, but please let's not tell them.
THERE IS NO SAFETY POST TOMORROW!!!
Student breakfast will be from 9-9:45.  (PLEASE REMEMBER TO DROP ITEMS OFF BEFORE 8:35 so that everything can get set up for the students!  IF you send it in with  your child they can take it to Mrs. Courtesis in the cafeteria.
The promotion ceremony will begin at 10 am in the auditorium. (IT WILL BE HOT, so we are trying to be as quick as possible & will be doing it slightly different this year.  We will announce each student to come up & receive ALL of their certificates at once instead of calling their names multiple times throughout the ceremony.  They will go in alphabetical order and the classes will be combined so it will not be separated by class.
Afterwards, the students will be dismissed and are free to go.  IF your child will not have a family member present they will stay at school until the bell rings at 11:45 for dismissal.
THANK YOU ALL for such a wonderful year, great picnic and for allowing us to be a part of your child's journey!
A HUGE THANK YOU to Anne Michelis for ALL the HARD WORK she has done not only this year, but every year to make such wonderful memories for ALL of these kiddos!