…seeing my students happy. We had an interesting day. We started by helping Mr. Short set up for the fifth grade promotion. We then had an all school "clap off" for the fifth grade. Afterwards we helped clean up after the promotion-but were rewarded with cookies. Then we said our final goodbyes to each other.
Many thanks for the wonderful gifts, messages, cards and hugs. I hope everyone has a wonderful summer.
Signing off for 2016-2017 fourth grade school year-peace!
april cronin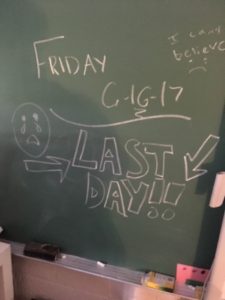 ---