Physical Activity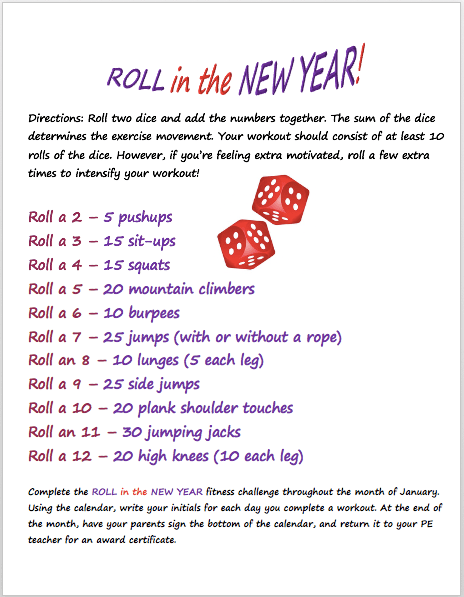 Not sure how to do some of the movements? Check them out here:
how to do mountain climbers, how to do a burpee, how to do a seal jack, how to do side jumps
Nutrition
Apple Cinnamon Stovetop Granola         
INGREDIENTS:
1 cup rolled oats (gluten-free certified if necessary) 
1/4 cup raw chopped pecans (or other nut) 
1/4 cup raisins                         
1 tsp cinnamon                                                        
pinch of sea salt
1/2 apple, grated
1 1/2 Tbs honey
1 tsp coconut oil, melted
1 egg white, frothed
INSTRUCTIONS: 
In a large bowl combine rolled oats, pecans, raisins, cinnamon and sea salt. 
Add in apple, honey and coconut oil and give it a good stir. 
Add in egg white and stir. Should form granola clusters. 
Heat a non-stick skillet over med-high heat. 
Add granola and flatten with a spatula to form one large layer of granola. 
Cook for 3 minutes before flipping, flattening with the spatula again and cooking for another 3 minutes. Watch carefully so it doesn't burn (lower heat if you sense it is burning). 
Lower heat to medium and continue cooking for 4-5 minutes or until granola has crisped up. Break up clusters as needed. 
Serve with almond milk or yogurt and fruit. 
Store in an airtight container for several days. 
Covid Resources: 
It's flu season! Each flu season is unique and can affect people differently. An annual seasonal flu vaccine is the best way to help protect you and your family against the flu. It is even more important now than ever to get vaccinated. Getting your flu shot this year protects you, protects your family, and helps make sure healthcare workers and hospitals in your community have resources to continue to treat COVID-19 patients.
It's not too late to get the flu shot. With flu season lasting into April or May, getting a flu shot now will help protect you and your family for the next couple of months. To find a flu vaccine clinic near you, click here.
انت والانفلونزا – مراكز مكافحة الأمراض والوقاية منها
For more information about the flu and the flu vaccine, visit https://www.nkfm.org/help-information/about-flu-and-flu-vaccine.
*Click here to submit feedback and additional ways Healthy Dearborn can help support you and your family with physical activity, nutrition and/or Covid resources.