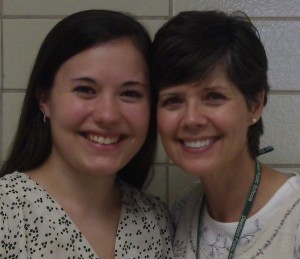 Ms. Graham is "graduating" to Plymouth/Canton Salem High School to complete her K-12 student teaching experience. The students and staff really enjoyed having her here at Howard. She will be missed!
2012-2013
What's Happening in Music Class?
KINDERGARTEN
We are gaining social skills as we play singing games in the circle. We are learning to read rhythms from iconic notation. Following directions, learning how to take turns, and learning how to move safely as we play and learn in music class are important right now. We are using body percussion and our singing voices. We have been exploring our "4 different voices" – singing, speaking, whispering, and calling. Miss Graham has been working hard with our "Kinders" !
FIRST GRADE
We are have been working on rhythm: one or two sounds on a beat, the steady beat, SO-MI in our singing voices, and higher and lower sounds in both vocal and instrumental music pieces. We are learning how to cooperate and are singing and playing unpitched instruments in music class.
SECOND GRADE
We have been working on quarter note, eighth note, and rests in music. We have found these rhythm symbols in our songs, in speech pieces and in instrumental play-a-longs. We have also used unpitched percussion as well as body percussion to work on the steady beat.
THIRD GRADE
We are working with beat and rhythm, and learning to tell the difference. We use body percussion and small percussion instruments to accomplish this. We are learning to set up the Orff instruments and are playing them in class. Orff instruments include the different sized metallophones and xylophones we have in our music room! We are going to make our own reed instruments in music soon to go with our science unit.
FOURTH GRADE
We have started to sing/speak rounds (canons) and enjoy discovering the harmony that is created when we sing this way. We are working on reading pitch from notation, and we also are reviewing rhythm reading from notation. We are preparing to play the recorder. Miss Graham has been helping us with notation.
FIFTH GRADE
We are have worked on syncopation and dotted rhythms with Miss Graham. We have used our textbooks to teach ourselves a speech piece and a dance, so we become more independent. We are learning to sing in harmony by singing a partner song (2 songs that can be sung simultaneously.)
WHAT ABOUT CHORUS THIS YEAR?
The music schedule has been filled completely with the addition of a new Kindergarten classroom at Howard School this year. The 4th and 5th graders will still perform together! Our mid-winter concert was a means to sing together for a choral experience.
INSTRUMENTAL MUSIC
Instrumental Music is taught to our 5th Grade Students who are interested in learning to play a band or a string instrument by Mr Greg Gozzard.
His website is in the BLOGROLL on the left side of this blog.
His email address is: GozzarG@dearborn.k12.mi.us