Timeline of the Novel Study Winter 2019
The pdf file of the novel and audio is available to you in the ABOUT section of your Google Classroom.  You are expected to  keep up with this if you are absent.
Chapter Summaries: Chapter Summary Cards Outsiders
Audio of the book: Audio
Copy of the Novel: Novel
Introduction Slide Show: The Outsiders Intro (3)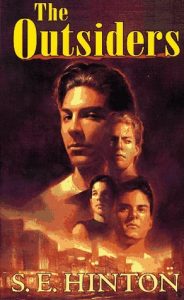 January 23-Student completed a webquest on the setting of the novel:Oklahoma and the 1960s.
January 24- Students gained background knowledge on The Outsiders.
January 25-Students began reading The Outsiders Chapter 1.  Answered comprehension questions.
TheOutsidersChapter1Questions
January 29-Student read Chapter 2, Answered Questions Chapter 2, and completed vocabulary for chapter 1-4. Vocabulary 1-4
February 1- Quiz on Chapters 1-2.  Chapter 1-4– Vocabulary 1-4 must be complete and in binder.
February 5-Pop Quiz on Vocabulary 1-4.  Read Chapter 3.  Answer Chapter3 on chapter 3.
February 8- Write a 5 sentence prediction of what will happen in Chapter 4. Read Chapter 4.  Answer TheOutsidersChapter4.
February 12-13- Wanted Posters
February 19th- Read Chapter 5 and answer questions.
February 26-27– Analyzing the Nothing Gold Can Stay Poem and completing partner posters.
February 28- Read Chapter 7 and questions: Chapter7
March 1- Read Chapter 8 and questions Chapter 8
March 4- Read Chapter 9 and answer questions TheOutsiders9
Chapter 10Chapter10