By Professor Aaron Pallas
Should we resume standardized testing of students this spring?
Policymakers place great stock in standardized test scores. In 1983, a landmark federal report, A Nation at Risk, pointed to declines over time in SAT scores and the U.S.'s middling performance on international assessments to claim a "rising tide of mediocrity" in American education. The report touched off a movement toward standards-based accountability: holding school districts, schools and even teachers accountable for the academic performance of their students.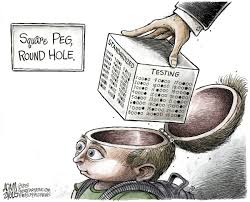 The No Child Left Behind Act of 2001 (NCLB) expanded the federal role in school oversight, calling for testing nearly all children in grades 3 through 8 annually in English Language Arts and mathematics to assess their proficiency. This testing, and reporting of results for demographic subgroups of students, was intended to prevent schools from hiding behind the performance of their strongest students, with no pressure to close achievement gaps.