By Larry Ferlazzo
Kelly Gallagher and Penny Kittle agreed to answer a few questions about their new book, 180 Days: Two Teachers and the Quest to Engage and Empower Adolescents.
Kelly Gallagher (@KellyGToGo) teaches at Magnolia High School in Anaheim, California. He is the author of several books on adolescent literacy, most notably Readicide and Write Like This.
Penny Kittle teaches at Kennett High School in North Conway, New Hampshire.  She is the author of several books on teaching English, including Book Love and Write Beside Them.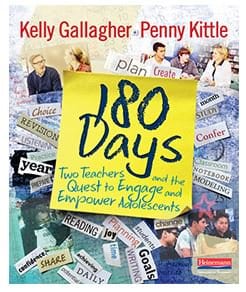 LF: Your book, I believe, provides an extraordinary template for what a year in a secondary English Language Arts class. Even so, it seems like it would also require a fair amount of preparatory work by a teacher who wanted to implement it.  And, as you say, "Every year, we believe we must rewrite curriculum so it is responsive to the mosaic of our students and our changing world."
What do you say to a teacher who is feeling overwhelmed now with several different "preps" during the school day and a family at home?  How would you advise him-or-her to find that kind of time?  Or, do you think it can be done in a way that is not intimidating – time-wise – to a teacher?