By Troy Hicks, The Educator Collaborative Fellow
Our best literacy teachers, especially those of you engaging with the TheEdCollab, have known for a long time that we must provide students with mentor texts in order to help them better understand the genres in which they write, the audiences for whom they write, and the purposes that their writing can serve. We have also known—and continue to make clear for our students—the idea that various text types have specific features to help the writer stay organized and to cue the reader in the process of making meaning. As we consider the possibilities for digital reading and writing, we need to make these moves for writers and clues for readers equally as explicit as we do in print.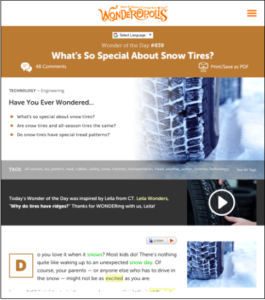 It is with this understanding of mentor texts and digital writing in mind that I enjoy sharing examples of website articles written for children, such as the site Wonderopolis, both as a place for upper elementary to find highly-engaging non-fiction articles and as inspiration for their own digital writing. We can even invite our middle and high school writers to consider Wonderopolis as a genre, with appropriate discussion of audience and purpose.
In addition to the many typical types of nonfiction text features we might find (such as clear headings, bold-faced words, engaging images with captions, and a compelling tone in the writing itself), the affordances of the web make Wonderoplois's articles even more interesting for students with the use of video clips, highlighting, hyperlinks, and interactive quizzes. This timely article on snow tires is just one example of the hundreds of compelling texts that Wonderoplois offers its young readers.
How then can we move our student from their initial "wonderings" into their own digital writing?
Digital Writing Opportunities using Websites as Mentor Texts
There are many ways we could consider using websites articles as mentor texts and in combination with various technologies, but two of the most familiar — and free — tools that I would encourage you to consider are Google Docs or Adobe Spark …