I have often heard that there are two types of professional learning experiences; a "warm bath" or a "cold shower."  The "warm bath" is an experience that makes you feel that everything you are doing is right and just full of positive affirmations.  The "cold shower" challenges you and makes you feel uncomfortable in what you are doing currently.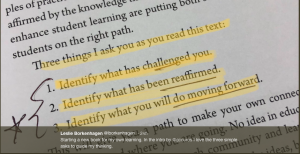 There is a risk in both approaches. In the first, people think there is a need to grow, and in the latter, people could feel that they will never be good enough and just give up.  In my opinion, great professional learning should be a combination of both. Educators need to walk out knowing that they are on the right path, but that we can always get better. All of us.1  It is something I continuously strive for in professional learning opportunities that I am lucky enough to be a part of but also in my learning.
Because of that belief, there are three questions that I try to ask in any workshop that I am leading.
What has challenged you today?
What has been reaffirmed?
What will you do moving forward?
The first one is to help people embrace their discomfort. The hope is that own what they are struggling with, and they share it openly with others. (Cold Shower)