by Education Trust – Midwest
Michigan is at a critical moment in time — a historic moment where our citizens and leaders must choose whether we will take advantage of new opportunities to become a top ten education state — or face a continued and dramatic educational decline. Today, national data reveal that Michigan's public education system is among the poorest performing in the country, a problem we can ill afford to ignore.
After almost two years of research, including conversations with educators working at the classroom, school, district, intermediate school district and state level, our team found a profound need for far more robust implementation and improvement systems, guided by sustained and visionary leadership. Indeed, the lack of coherent systems and accountability for consistent improvement are holding back third-grade literacy efforts and squandering millions of dollars. As it stands, the only real accountability for Michigan's third-grade reading investment exists for the state's students: under the state's 2016 policy, students are at-risk for retention in third grade if they are unable to meet grade-level reading expectations.
Click to enlarge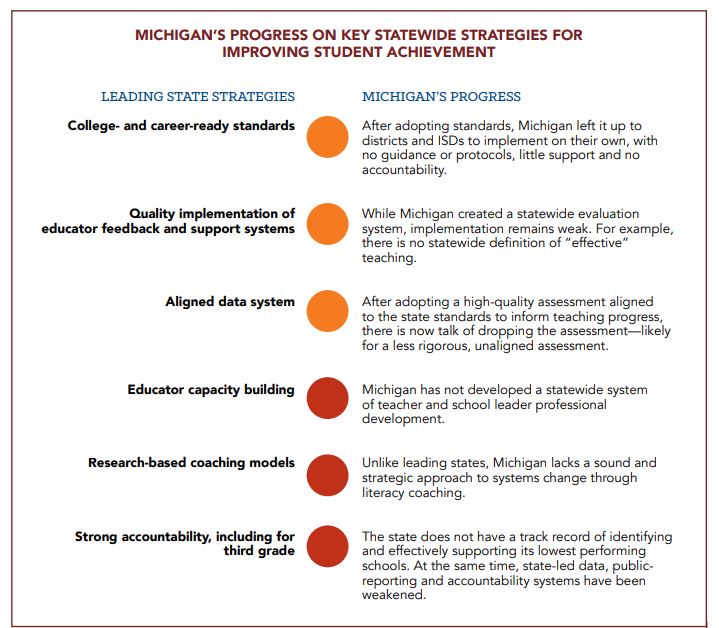 In this report we dig deeply into the experience of leading education states with a focus on the "how": how did these states dramatically raise their third-grade reading levels in relatively short periods of time? Over the last two years, our team of researchers visited and talked with more than 50 leaders in these states, mined national and state data, and examined the approaches they use
Michigan third-graders are the lowest performing students in the U.S. among peers, based on the state's assessment. Michigan is one of only a few states in the country that has actually lost ground in third-grade reading in recent years.
---
It's a devastating decline – yet it can and must be turned around.
---
That is why we launched the Michigan Achieves campaign to make Michigan a top ten education state. And it's why our most recent report digs deeper in the "how" of Michigan's early literacy imitative, an important case study for the state's larger K-12 improvement challenges.
We also celebrate some of Michigan's highest-improving, high-poverty schools that are showing dramatic improvement can happen with the right systems, leadership and strategies.