National Poetry Month each April is the largest literary celebration in the world, with tens of millions of readers, students, K-12 teachers, librarians, booksellers, literary events curators, publishers, bloggers, and, of course, poets marking poetry's important place in our culture and our lives.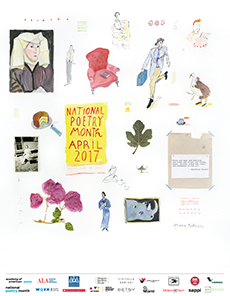 While we celebrate poets and poetry year-round, the Academy of American Poets was inspired by the successful celebrations of Black History Month (February) and Women's History Month (March), and founded National Poetry Month in April 1996 with an aim to:
highlight the extraordinary legacy and ongoing achievement of American poets,
encourage the reading of poems,
assist teachers in bringing poetry into their classrooms,
increase the attention paid to poetry by national and local media,
encourage increased publication and distribution of poetry books, and
encourage support for poets and poetry.
There are many ways to participate. Here are just a few:
Follow the thousands of National Poetry Month celebrations taking place using #npm17 and follow the Academy of American Poets on Twitter @POETSorg.
Use the National Poetry Month logo to promote your events. It can be downloaded here.
Order a free National Poetry Month poster and display it proudly.
Invite K-12 students to participate in our Dear Poet project by writing letters in response to poems shared by the award-winning poets serving on our Board of Chancellors.
Attend Poetry & the Creative Mind, a celebration of poetry from the reader's perspective featuring leading and luminary actors, artists, and public figures, on April 19, 2017, in New York City.
Participate in National Poem in Your Pocket Day on April 27, 2017.
Sign up for Poem-a-Day.
Join the Academy of American Poets and show your support year-round for poets and poetry.
Share your photos and feedback about your National Poetry Month celebrations with the Academy of American Poets by emailing npm@poets.org.
Discover more ways to celebrate national poetry month at …