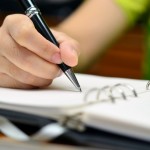 By Natalie Wexler

Natalie Wexler chairs the board of trustees for the Writing Revolution.
It's no secret that many Americans are lousy writers. Just ask any college professor or employer, including those at prestigious institutions. With the advent of e-mail, writing ability has become more important than ever, and writing deficiencies have become increasingly apparent.
Surely one reason so many Americans lack writing skills is that, for decades, most U.S. schools haven't taught them. In 2011, a nationwide test found that only 24 percent of students in eighth and 12th grades were proficient in writing, and just 3 percent were advanced.
If students get writing assignments at all, they're usually of the "write about how you feel" variety. There's value to that kind of exercise, but it doesn't provide kids with the tools they need to write analytically.
---
The Common Core education standards, adopted by more than 40 states and the District, attempt to address this deficit. They require that students learn to write fluently about the meaning of what they're learning — not just in English class, but also in history, science and maybe even math class.
---
That makes sense: When students put what they've read into their own words, they're more likely to absorb and retain it. And learning to write clearly requires learning to think clearly …