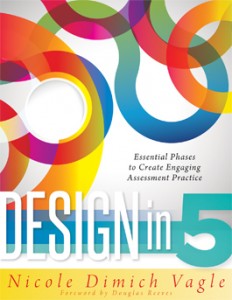 Design in Five
Essential Phases to Create Engaging Assessment Practice
by Nicole Dimich Vagle
Fully engage learners in your classroom. Discover how to create high-quality assessments using a five-phase design protocol. Explore types and traits of quality assessment, and learn how to develop assessments that are innovative, effective, and engaging. Evaluate whether your current assessments meet the design criteria, and discover how to use this process collaboratively with your team.
Benefits
Create engaging assessments that accurately report students' progress.
Design assessments that help students learn from their mistakes and motivate them to improve.
Work collaboratively to analyze standards and create common assessments.
Evaluate the cognitive level of assessment items and tasks.
Gain access to reproducibles and other recommended resources to deepen your understanding of assessment.