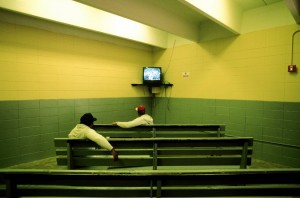 LET PRISONERS TAKE COLLEGE COURSES
ATTICA, N.Y. — EVER wonder what prisoners do and talk about? Well, at the Attica Correctional Facility, we're all tucked away in cellblocks watching TV. We watch a lot — all day, all night. Then we talk about what we're watching. Conversation tumbles through the bars, about movies, ball games and the news on CNN. I hear voices, as if in a trance, rap along to Bobby Shmurda's new music video on BET. The lyrics — about dealing drugs, toting guns and committing murder — sound like an anthem for the lives many of us have lived.
We don't have access to the Internet but prison officials are all for TVs in the cells. It's called the "TV program." When prisoners watch TV instead of going to the yard, there's less violence. We're entertained and confined and everyone's happy. But the TVs could be put to better use.
What if, a few times a week, massive open online courses, or MOOCs, were streamed on the prison's internal station, channel 3? Companies like Coursera already record university lectures — in subjects like psychology, sociology, existentialism, economics and political science — and stream them online for free. The MOOCs, which are free for the rest of the world, could help American prisoners become more educated and connected.
Education was once an integral part of prison life. In the early 1980s, there were 350 college degree programs for prisoners nationwide. It was part of the "rehabilitative era." School buildings in prisons were like satellite campuses of colleges, and federal and state grants paid prisoners' tuitions.