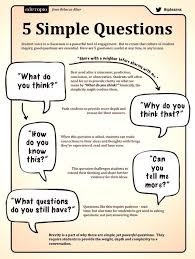 by Rebecca Alber
My first year teaching a literacy coach came to observe my classroom. After the students left, she commented on how I asked the whole class a question, would wait just a few seconds, and then answer it myself. "It's cute," she added. Um, I don't think she thought it was so cute. I think she was treading lightly on the ever-so shaky ego of a brand-new teacher while still giving me some very necessary feedback.
So that day, I learned about wait/think time. And also, over the years, I learned to ask better and better questions.
Many would agree that for inquiry to be alive and well in a classroom that, amongst other things, the teacher needs to be expert at asking strategic questions, and not only asking well-designed ones, but ones that will also lead students to questions of their own.
Keeping It Simple
I also learned over the years that asking straightforward, simply-worded questions can be just as effective as those intricate ones. With that in mind, if you are a new teacher or perhaps not so new but know that question-asking is an area where you'd like to grow, start tomorrow with these five …