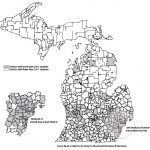 by Ron French and Chastity Pratt Dawsey
State Superintendent Mike Flanagan has concluded that Michigan is "10 years behind" states with high-achieving schools.
In a blunt, at times stunningly self-critical review of his performance as schools chief, Flanagan told Bridge that his office was "perplexed" by Michigan's poor performance on national tests, too slow to question the performance of charter schools and "frustrated" with the legislature. He said he wondered, after nine years as superintendent, whether he'd overstayed his welcome and reduced his influence with political leaders.
"I'm the longest-serving state superintendent in the country," said Flanagan, who took office in 2005. "I think the sweet spot is about six years. After that, it's like a president after six years ‒ everyone hates you."
On Michigan's tepid performance on the National Assessment of Educational Progress, which tests students in 4th and 8th-grade math and reading, Flanagan said, "It's a mystery to me."
"You can't deny it," he said of the scores, which now place Michigan among the lowest-ranking states nationally. But, he said, "I think that's going to take care of itself" over time.