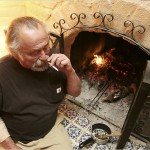 Jim Harrison has spent much of his life in Michigan on a farm near where he was born.
His connection to rural landscapes is evident in his free-verse, imagistic poetry, which often explores human and animal drives set against an unforgiving natural world. Noting the poetry's relation to Hemingway's prose style in a review of Harrison's Selected & New Poems 1961–1981, poet and critic Richard Tillinghast declared in the New York Times that "Mr. Harrison has few equals as a writer on outdoor life, the traditional heritage and proving ground of the American male."
Educated at Michigan State University, Harrison taught briefly at SUNY Stony Brook. After the publication of his first collection of poetry, Plain Song (1965), he returned to Michigan, where he worked as a freelance journalist and laborer until he began to earn a living from his writing.
Birds Again
by Jim Harrison
A secret came a week ago though I already
knew it just beyond the bruised lips of consciousness.
The very alive souls of thirty-five hundred dead birds
are harbored in my body. It's not uncomfortable.
I'm only temporary habitat for these not-quite-
weightless creatures. I offered a wordless invitation
and now they're roosting within me, recalling
how I had watched them at night
in fall and spring passing across earth moons,
little clouds of black confetti, chattering and singing
on their way north or south. Now in my dreams
I see from the air the rumpled green and beige,
the watery face of earth as if they're carrying
me rather than me carrying them. Next winter
I'll release them near the estuary west of Alvarado
and south of Veracruz. I can see them perching
on undiscovered Olmec heads. We'll say goodbye
and I'll return my dreams to earth.