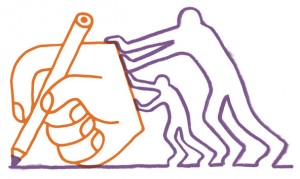 Overview | How can writing change people's worldview? How can it influence public opinion? How can it lead to meaningful action?
The persuasive essay is a quintessential high school writing assignment. With the Common Core standards, it seems to have taken on a new urgency in many school districts and classrooms. But students should know that evidence-based persuasive writing is more than just an academic exercise — it is very much alive in the real world. Perhaps one of the best and most widely recognized examples of persuasive writing in action is the classic newspaper editorial, three to four of which The New York Times publishes every day.
In this lesson, we offer suggestions on how to guide students through the writing process when writing editorials — from brainstorming a topic to publishing their work — and all the steps in between. This lesson can be used in conjunction with our Student Contest on editorial writing, or with any argumentative writing project you do with students.