Hello Everyone!
I am currently working on getting progress reports and NWEA scores sent to your emails. I apologize for the delay, there are a lot of extra steps involved in creating them this year. Please note a few things.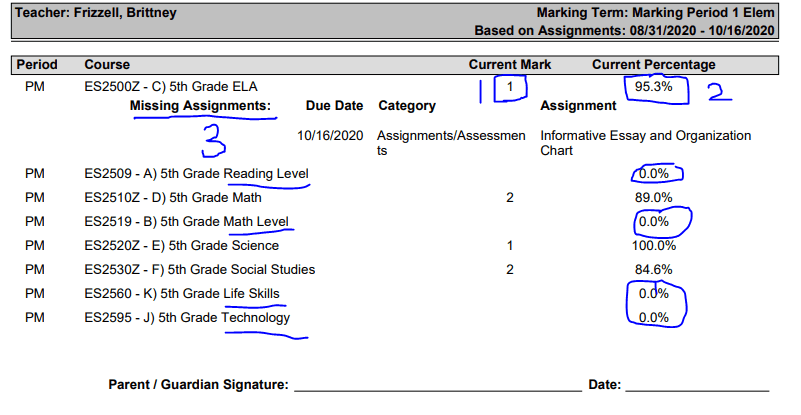 All of the progress reports will have a few features. The current Mark (1, 2, 3, OR 4) as well as the % in that class. It will also show you missing assignments listed in that category. Please understand, the missing assignments are not currently affecting the grade for that class. If it does not get turned in, the grade will be put in as a 4 and it will drop the scores in that class.
You will see a few things on the progress report with 0%. The reading level and math level will be left blank and will be filled with NWEA scores when the report cards come out.
Life skills and technology will eventually be put in, but it is not currently something I have filled out.
If your student has a low % but no missing assignments, you can go back through the grade book and see where the scores are lower. I have allowed students to make up work that they are missing or did not complete. I will continue to allow this. However, please don't have them wait until the last second to return their scores. The marking period ends this month.
You should expect to see these progress reports and NWEA scores in your email this weekend. I'll be available starting Monday if you have any questions. Thank you.