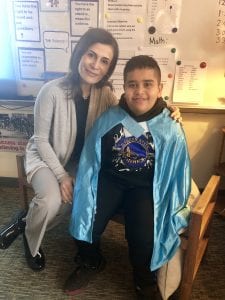 Dear Parents,
   I am proud to announce that Ali Alghazzi  is the student of the month of January! Ali is working hard to improve academic and his behavior in all subjects.  Ali is showing respect to all teachers and students. He is a true Geer Park Star.
Keep up the good work Ali!
Mrs. Beydoun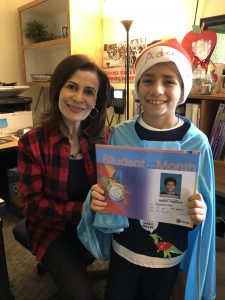 Dear Parents,
   I am proud to announce that Adam Hachem  is the student of the month of December! He is a positive role model for all students to follow. Adam is a very hard-working, respectful, and kind student. He shows empathy toward all his friends and teachers. He is a true Geer Park Star!
Have a Safe Relaxing Holiday Break !
Mrs. Beydoun
For Arabic subtitles, please Click on the settings icon on the bottom right of the YouTube screen. Click subtitles and select Arabic.
Many thanks to Manar for her translation. MDE is appreciative
Mrs. Beydoun"s  student of the month for November is Mustafa Muharib. He is being recognized for his outstanding behavior, being a bucket filler, and upholding all the core values.
Congratulations Mustafa!!
Dear Parents,
Please remember that Parent Talk registration is on Oct 12, 2018!
Respectfully,
Mrs. Beydoun
Picture Day is Wednesday, October 24
To enroll online go to portal.lifetouch.com
Picture Day ID: LM748095Y0
Increase achievement and decrease discipline issues with effective Parent Talk.
Learn communication skills that empower, encourage self-responsible behaviors, self-motivation and character development.
Learn practical skills to positively effect the social and emotional development of your children and family.
CERTIFICATE OF COMPLETION IS AWARDED TO PARTICIPANTS WHO COMPLETE THE
PROGRAM.
Sessions are Wednesday's 2:00-3:30pm in Media Center
October 17, 24. November 7, 14, 28. December 5, 12.
Graduation: December 19, 2018.
Please support this fundraiser!
PISTONS vs. CELTICS
SATURDAY, OCTOBER 27 – 7:00PM
100-LEVEL: $60 (FACE VALUE $88) | 200-LEVEL: $30 (FACE VALUE $44)
More information is provided in the flier below.
Welcome Letter
Dear Parents,
Welcome to fourth grade! My name is Mrs. Beydoun. I have been teaching for over sixteen years, most of which have been practiced at Geer Park Elementary. I am excited to start a new year in fourth grade. I am also looking forward to meeting and working with our wonderful Geer Park parents and guardians to meet your child's needs and expectations.
Behavior:
For monitoring your child's behavior, I have the magnet system. Everyday your child will start off on green. If they go above and beyond, they will be able to move their magnet  up to purple and I may contact you letting you know what an amazing job your child has done! If your child moves his/her magnet down to yellow, this is a warning. If the magnet is moved down to orange, they will lose 5 minutes of recess. If they move to red they will lose all of their recess time and write a behavior plan. If they move to blue I will be contacting you and have a meeting. 
School Schedule:
Arrival and Dismissal:
Please do your best to bring and pick up your child on time. Our day begins at 8:35 a.m. If your child is in the classroom after 8:40 they will be considered tardy. Dismissal will be in the front of the school at 3:35 p.m.
Conference:  
If you would like to discuss your child's progress, you may call at anytime and leave a message or email me. I will call you back as soon as I can. Discussions regarding your child's progress is best with a scheduled appointment. Dismissal time is too busy to have a thoughtful conversation.  
School Supplies:
1 headphone

1 – 3 inch/3 ring binder

6 spiral notebooks

6 pocket folders (no prongs/tab) poly/vinyl folders are best since they don't tear or rip as easily

4-pack dry erase markers

4-pack highlighters

Colored pencils

Crayons

Markers

4 packs of pencils

2 pink erasers

1 pack lined loose leaf paper White computer paper

Pencil box

3-hole zippered pouch Glue sticks Scissors

1 pack of different colored pens (blue, green, purple, etc.)

1 box of tissue

1 pack Clorox or Lysol wipes

1 pack Purell Hand Sanitizer

1 handheld sharpener

 
Iblog:
This is where I post classroom announcements, assignments, reminders and extra practice. You can follow the link to our classroom blog:
http://iblog.dearbornschools.org/beydoua/ 
Contact Information:
Thank you,
Mrs. Beydoun