Good Morning!
As a reminder, there is a test over Chapter 1 and 2 on Tuesday, October 24th on I-learn. There will be 37 questions that include 2 Short Answers, Matching Vocabulary, Identifying, Primary and Secondary Sources and Multiple Choice totaling 45 points!
Today in class, we will begin the hour by comparing hominids, followed by learning about Homo Sapiens Neanderthalensis and Homo Sapian Sapiens. If time permits, we will begin our project over the hominids.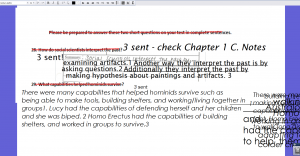 Homework:  1. Work on all of your study guide – Checking Friday 2. Chapter 1&2 Test Monday! 3. Print Hominid Presentation Cornell Notes. hominidspresentationcnotes 4. Vocabulary Maps Chapter 1 & 2 Extra Credit 5. Please be here all week!
Have a great day!
Mrs. Crechiolo